THE UK tea market is showing no overall growth despite an upturn in sales of specialist lines such as green tea and decaf products, according to the country's two biggest tea firms.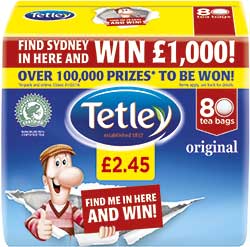 Sales of everyday tea – which accounts for 75% of total value tea sales – has shown a decline in value sales of 2.5%, according to Tetley's parent company Tata. The UK market is worth around £630m, with everyday black teas accounting for almost 97% of all tea sold in independent stores and 90% of the volume of tea sold overall, according to Nielsen.
And Kate Mitchell, PG Tips brand manager at Unilever UK, said: "The tea category is still showing decline despite continued and increasing promotions."
But at Tetley, the top-selling brand in Scotland and second in the UK as a whole, the brand team argues that there are opportunities for convenience stores to boost sales in the more specialist sectors, including decaf.
And Unilever also stresses the buoyancy of the decaf market, now worth £16.6m after increasing almost 4% in the past year.
"The decaf market is growing as consumers continue to seek a tea that offers all of the taste of normal tea without the caffeine," said Mitchell.
"Health is a real priority for consumers as they look for products that deliver quality taste as well as health benefits."
Consumers in the 45+ age category currently drink more tea than any other group, and Tetley suggests that as the group ages, healthier black teas such as decaf are likely to increase in appeal. Overall sales of decaf are up 5.7% in Scotland, and up 3.6%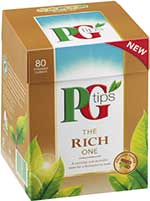 UK-wide. However, there is an overall decline in the impulse sector of 2.2%. And according to AC Nielsen, decaf SKUs account for just 2.4% of tea sales in impulse stores, compared with more than 5% in the rest of the market.
But Tetley say its Decaf 80s size is doing well in impulse stores, sales are up 5.3% in Scotland and 10% in impulse outlets.
Sales of green and herbal teas have risen, which could be down to consumers focusing on healthier living. Volume sales on those products are up 5.2% and 3.9% respectively in the market overall, according to Tata. In Scotland, green teas are the best performers – up almost 8% year on year.
Unilever reports that speciality tea accounts for almost 10% of tea sales worth £58m, while fruit and herbal teas are now worth more than £62m, up over 15% in the past 12 months.
And the firm says children under 10 years of age and men age 25-34 are drinking more tea, particularly at breakfast time.
£630m Value of UK tea market
7.9% Year-on-year growth of green tea in Scotland
5.7% Growth of decaf tea in Scotland