Britain's sales and marketing professionals explain how they see the convenience scene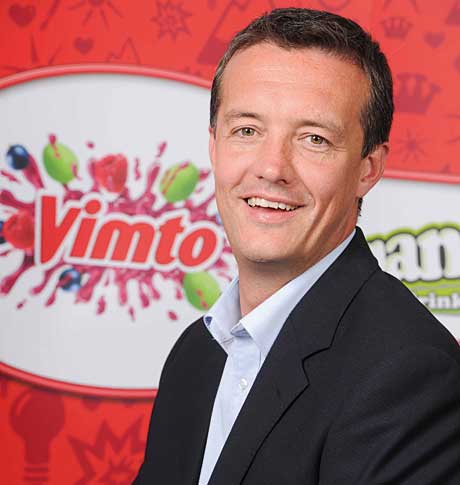 Andrew Milne, commercial director with Vimto Soft Drinks
It seems as if Vimto Soft Drinks has been very active on NPD recently – on Vimto itself, and on collaborations with other brands. Has it been a busy period?
We've had a solid period of investment and development in our brand portfolio for the last five years, choosing to invest during a recession when others may have scaled back. The strategy has been very successful.
Taking on the licence for powerful brands like Weight Watchers and Levi Roots has certainly been of great value; bringing us into new markets and helping us to grow.
Have any of the developments on the Vimto brand proved particularly successful – taken you by surprise, in fact? If so, which? And why do you think that is?
The Vimto Still Sportscap has been phenomenally successful. Since the launch of Sportscap two years ago it has experienced growth of 50% in the impulse channel and 95% in Scotland.
We wanted to create a range that appealed to our target teen audience and the Sportscap has hit the nail on the head for appeal. It's a great looking bottle in a format that energetic teens love to pick up on the go and we've continued to support it through our marketing activity to create more awareness and drive sales."
How does the Vimto brand play in impulse outlets? What are the key products and packs in the Vimto range in c-stores, for example?
We've continued to develop our impulse range with formats that reflect what convenience retailers need to stock. The emphasis has been about providing more offerings from a brand in demand that will give excellent value for money. So we have a range of standard and price-marked packs across our Original and No Added Sugar carbonate, still and squash ranges. Key packs include the 49p PMP 330ml cans, £1 PMP 500ml carbonate and still bottles, £1.75 PMP 2l carbonate and the handy £1.65 PMP 725ml squash.
What do you see as the most important promotional tools and techniques at present?
PMPs are valuable tools for the impulse channel and offer value for retailers and shoppers. More independent retailers are choosing PMP formats as they increasingly aim to offer consumer value. Vimto research shows stocking PMPs translates into higher average spend per shopper per visit, and encourages repeat visits.
On the whole, Vimto Soft Drinks has increased the amount of PMP products in its portfolio over the last three years. In 2011 this accounted for 33% of total volume produced and this year PMPs account for 45% of total volume.

You have a presence in energy and sports drinks with Extreme. Is that your first foray into energy drinks and, if so, why has it taken so long, given the category growth?
Energy drinks are the fastest growing category at 8% year on year and we believed there was still opportunity to add value and growth here.
We wanted to ensure that when we entered the category it was with a product range that offered genuine innovation and a real point of difference for the consumer.
We believe we have that within Extreme because the unique re-sealable bottle is truly innovative, the product and taste outperforms the competitive set in taste tests and the product appeals to a new target consumer, broadening the appeal and usage within category.
What do you see as some of the key trends in soft drinks?
Health will continue to be firmly on the agenda and we're addressing this through Weight Watchers Soft Drinks and the expansion of Vimto's No Added Sugar range.
We'll also see more lunchtime shopping and impulse purchases making the role of RTDs and other easy-to-carry formats increasingly important to convenience sales.
There doesn't seem to be any let-up for the energy and sports sector so we aim to help take that growth further through Extreme.
Finally, promotions will play a much bigger role in the convenience channel's bid to compete with the multiples.
[hr]
Andrew Milne (pictured above) arrived at Vimto Soft Drinks after five years at Coca-Cola Enterprises. Before that, he looked after Lucozade and Ribena at GSK for eight years.
As a "born and bred Northerner", Vimto was a brand close to his heart.
Vimto Soft Drinks is responsible for a portfolio that includes Vimto, Sunkist, Levi Roots, Weight Watchers and Extreme energy and sports drinks.
Recent Vimto Soft Drinks activity has included a new Tropical Punch flavour in the Levi Roots range, a new Weight Watchers flavour in a 500ml bottle, the launch of Extreme, and, on Vimto, the launch of its No Added Sugar variant as well as PMPs on 500ml bottles of still and carbonated Vimto.