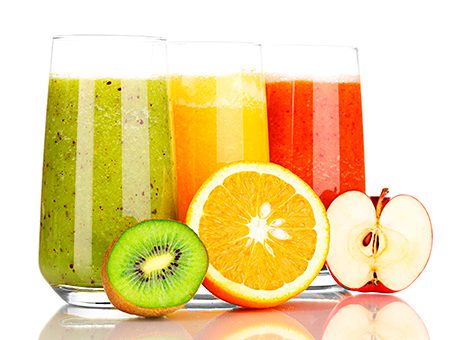 THERE are still juicy profits to be squeezed out of thirsty consumers' love of refreshment, especially during hot weather.
That's the juices industry's view, with Del Monte and Sunpride owner Gerber Juice Company arguing: "Juices that continue to do well in the recession are those which can be used for all the family, taste good and have practical benefits."
James Logan, Gerber's commercial director, added: "Consumers continue to be concerned with sugar and calorie content so light options form part of a growing trend."
He gives the example of Del Monte Naturally Light, sweetened with stevia, saying: "This range was awarded Soft Drinks Product of the Year, a fact which features on the packaging and drives additional interest with shoppers."
And even in the toughest recession, everyone needs a refreshing treat on a hot day – or on a long hot evening.
"Despite consumers watching their pennies on everyday food and drinks, they are having more nights in," Logan said. "This continues to push the market for night time and weekend treats."
Rubicon owner AG Barr added: "Summer is key to the entire soft drinks market." Quoting Nielsen Scantrack the Barr spokesperson said: "The total soft drinks category went up by 11% last year, despite the fact that temperatures and hours of sunshine fell and rainfall rose versus the previous year."
Also according to Neilsen, consumers drink 11% more soft drinks in summer than in they do winter, with one of the categories which benefits most being fruit drinks.
Exotic flavours continue to be popular. Barr reports Rubicon's 1l cartons, 288ml single serve cartons and 500ml PET packs doing particularly well in c-stores. Rubicon comes in Guanabana, Guava, Lychee, Mango, Papaya, Passionfruit, Pomegranate and Watermelon flavours.
Elsewhere Gerber added mango to its JustJuice range last year. One of its other brands, Sunpride, now includes Grape, Raspberry and Guava.

Oasis, distributed by CCE, added Mango Medley in May. It's part of a wider brand refresh which includes renewed sponsorship of TV show Celebrity Juice. Oasis currently comes in a £1 PMP as well as a plain pack.
It's one of a number of brands that now comes in smaller case sizes, to take the pressure off retailers. Oasis is now available in cases of 12, while Del Monte comes in cases of six.
5.7% – Value growth of the sector last year
16.4% – Juice and juice drinks' share of the soft drinks market
Cranberry remains the third most popular flavour behind orange and apple. This month CCE has put Ocean Spray into a PMP, with a "buy one for £1.39 or 2 for £2" offer. It's available until the end of October.
Capri-Sun has teamed up with summer blockbuster movie Despicable Me 2. Its 10-pack range (excluding Apple and Cherry flavour) offers the chance to win a family holiday to Universal Orlando Resort in Florida. Shoppers can also download a free child voucher for UK attractions including The Eden Project, Fantasy Island Family Resort and Eureka.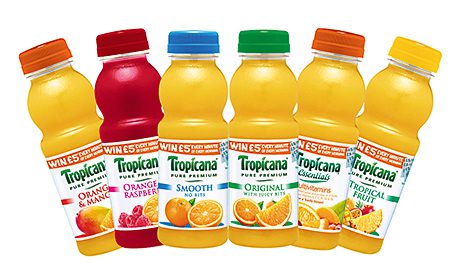 Tropicana's busy summer continues with a marketing campaign aimed at pushing its single-serve bottles. The brand's "Goodness On The Go" advertising push has included taking over central London train stations. The tie-in TV ad, which began running in May, aims to reinforce Tropicana's heritage and expertise, as well as promoting the small bottles.
And earlier this year it launched a competition giving consumers the opportunity to win £5 every minute of the morning. It was designed to underline the message that Tropicana counts as one of five a day and to appeal to the 55% of consumers who, according to brand owner Pepsico's own research, leave the house without eating breakfast.
Launched at the beginning of the year, Trop50 is a lower-calorie drink from Tropicana, which uses natural sweetener stevia.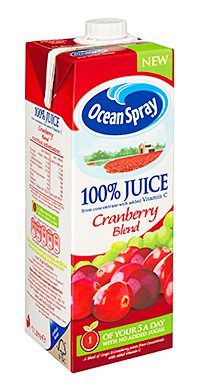 • Sunmagic has won new listings in Tesco filling stations and WH Smith. The deals come in a year of increased marketing activity. With a £1m spend, the Love Sunmagic breakfast campaign started on Capital radio in May. The brand will also be announcing a new film partnership later in the summer.
Listed varieties include 12-packs of 500ml Pure Orange Juice, Pure Apple Juice, Cranberry Juice Drink, Mango Juice Drink, and Apple & Blackcurrant Juice Drink. WH Smith will also stock Orange & Carrot Juice Drink.
Razin Ali, Sunmagic brand manager, said: "We are delighted to be increasing our presence in the high street, travel and forecourt sectors with our new listings.
"Both are strong household brands and at the forefront of the impulse sector."