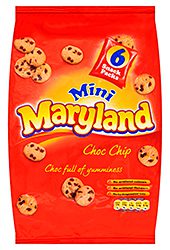 BURTON'S Biscuit Company, reckons the start of the new school year is a great time for retailers to capitalise on demand for child-friendly biscuit portions.
Quoting Kantar and Nielsen the firm says packed lunches for kids are becoming increasingly important, accounting for 30% of total children's eating occasions. And sales of children's biscuit portions have seen more than four times the average market growth in recent times.
The firm offers a range of biscuits in snack packs and individual portions designed to be ideal for children's and adults' lunchboxes including: Wagon Wheels, relaunched last year; Cadbury Animals, the number-one kids minis line; and Maryland Minis now the number-two kids minis line. And it has Jammie Dodgers, which it says is the number-one, after-school biscuit for kids.
• Fox's Party Rings biscuit range is extended this month with the launch of Fox's Party Choc Rings. The new line joins Fox's Party Rings in the kids segment of the sweet biscuits category in standard (125g) and mini(25g) formats.