CIDER brand-owner C&C has a special interest in Scottish football this year.
Its lead brand Magners takes over from its lager Tennent's as shirt sponsor of Celtic. And its Blackthorn brand will appear on the shirts of Rangers.
What are some of the dates that those brands, and indeed other drinks brands and retailers, should look out for as big-night-in or Super Sunday opportunities as the 2013-14 season gets under way a few days from now?
Well, Scottish champions Celtic made it through to the last 16 of the UEFA Champions League last year. If the players want to match or better that performance this season they'd best be well-prepared for the Second Qualifying Round tie against Northern Ireland champions Cliftonville in Belfast on 17 July and Glasgow on 23 July. The Champions League proper starts on 17 September,
As we go to press the Scottish football TV schedule has still to be decided but in the Scottish Premier League some of the early matches which could be televised include Hearts v Hibs, currently scheduled for 10 August, Aberdeen v Celtic listed for 17 August, and Dundee United v Celtic on 24 August. The Rangers players begin their attempt to make it out of the Irn-Bru second division at home against Brechin on 10 August. The Ibrox club will travel to Stranraer the week after.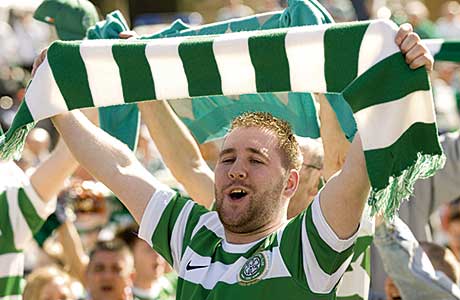 Sadly Scotland can no longer qualify for the World Cup but there will be some interest in how the international squad fares under Gordon Strachan's direction. The national team plays a 'friendly' against England at Wembley on 14 August, faces the very highly regarded squad from Belgium at Hampden on 6 September and travels to Macedonia to play on 10 September.
The Premier League down south kicks off on 17 August with the first blockbuster coming the week after when Manchester United host Chelsea.
Then just a week later Manchester United head to Liverpool and Arsenal host the north London derby against Tottenham Hotspur.