WRIGLEY Confectionery, the firm behind Skittles and Starburst, reckons many retailers still don't appreciate the opportunities that the consumer trend to home leisure presents.
Independent research, commissioned by the company, surveying 250 retailers showed that 84% of the retailers said the big-night-in occasion isn't important to their store and 79% said they they didn't offer their shoppers a big-night-in solution.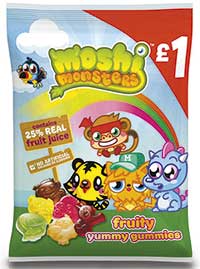 But the firm says research from a variety of specialist sources has shown 47% of consumers are spending less money on out-of-home entertainment, 50% are eating out less and 27% are eating at home more.
53% of consumers have access to on-demand TV, which now accounts for 10% of movie watching.
Sharing is most popular with families and its own commissioned research shows 47% of sugar confectionery occasions occur at home and 66% of those are shared.
Matt Austin, Wrigley's European confections business unit director said retailers who weren't embracing the big night in should think again.
"We know that a well-merchandised, big-night-in display featuring clear cross-category promotions will encourage incremental purchases but, as our research indicates, retailers are not fully aware of the extra profits that can be reaped, especially at the weekends, when a majority of big-night-in occasions take place.
"Retailers should consider creating a dedicated big-night-in display in store or, if space doesn't allow, bringing temporary units, such as cardboard free-standing display units out of storage ahead of the weekend rush.
"They should also take learnings from the 29% of retailers surveyed who are currently doing big night in well, with almost all of them stocking confectionery pouches alongside two-litre drinks and large bags of crisps. A complete night-in solution like this is a great idea and will satisfy all of your shoppers' needs in one go."
Bazooka Candy Brands shares the enthusiasm for the big-night in as a retail opportunity and a company spokesperson said: "When it comes to snuggling up on the sofa and settling in for a cosy night in front of the TV, there's one format of sweets and confectionery that trumps all others, the mighty share bag."
In its own range it says the big night in is about "one brand and one brand only… arguably the most successful kids license of the last five years, Moshi Monsters."
It says the fruit foam and jelly gummies, aimed at kids but appealing to all ages sold more than 3m bags in the 12 months following the launch in January 2012.
Mark Walker sales director at confectionery firm Swizzels Matlow is another who argues that retailers should use a special big-night-in zone to make the best of the opportunities that the night-in trend affords. It should be close to the front of the store, feature confectionery, soft drinks and snacks and should include brands that are instantly recognisable to consumers, he said.
"Sharing sizes are pertinent for a big-night-in occasion. Our large sharing bags of Bumper Bag, Lots of Lollies, Chew Crew and the Loadsa range are perfect for sharing with family and friends and are full of everyone's favourite sweets," he added.