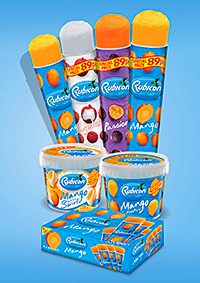 THE tropical flavours of the Rubicon soft drink range – the UK's biggest-selling exotic drink brand according to Nielsen Scantrack – form the basis of AG Barr's new ice cream range. Launched last year, it has already sold £2m.
Barr has identified two main types of customer. Asian and Afro-Carribean consumers already rate Rubicon and make up 10% of the UK population. Then there are mainstream consumers who are looking for something a little less – well – vanilla.
"The Rubicon range has plugged a significant gap in the market, as ice cream is often lacking in choice of authentic exotic flavours which core Rubicon consumers, among many others, are now actively seeking," said Adrian Troy, AG Barr's head of marketing.
"It has created a massive opportunity to generate incremental sales from the ice cream fixture as it gives retailers the chance to leverage Rubicon which commands very strong brand loyalty and is one of the UK's fastest-growing drinks brands."
The range includes mango and passion and lychee push ups, RRP 89p, plus mango and mixed exotic fruit ice cream 750ml tubs, available in a £2.99 price-marked pack.

Image – Rubicon's tropical fruit drinks transformed into lollies and ice cream.