SUGAR confectionery firm Wrigley is ringing the changes on its 5 brand of gum. The company has just changed the pack and RRP of the gum and has introduced a new flavour.
The relaunch, which the firm says is supported by a significant marketing campaign, is designed to rekindle UK growth for the brand by responding to what Wrigley sees as young chewers' demand for a premium gum at an affordable price.
Following consumer research, the company decided 5's 12-stick pack would go and a new smaller seven-stick pack would replace it.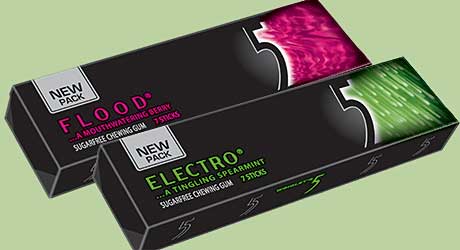 At the same time the number of flavours in the range has been increased to include the existing Electro (Spearmint) and Flood (Berry) styles as well as the new Turbulence flavour (Watermelon).
The new packs are now available in all retail channels, and the firm says the pack re-sizing exercise will mean retailers can sell Wrigley's 5 at 59p, which it argues will be much more appealing to gum consumers.
The campaign backing the relaunch includes outdoor posters, print advertising, sampling, and digital and social media. A series of ads will go live from 13 May.
Camille Peressini from Wrigley said: "5 is currently the world's third-largest gum brand and our challenge is to echo this success in the UK market, starting now!
"We've invested heavily in UK consumer research and taken insights from other markets to really understand what our target chewers are looking for. They're going to love our new pack format, flavours and price."
Wrigley will provide the wholesale channel with a suite of point of sale material and off-shelf shippers, designed to highlight the new seven-stick pack, consumer price point, and new flavour.