Yousaf has proposed a ban on the sale of disposable vapes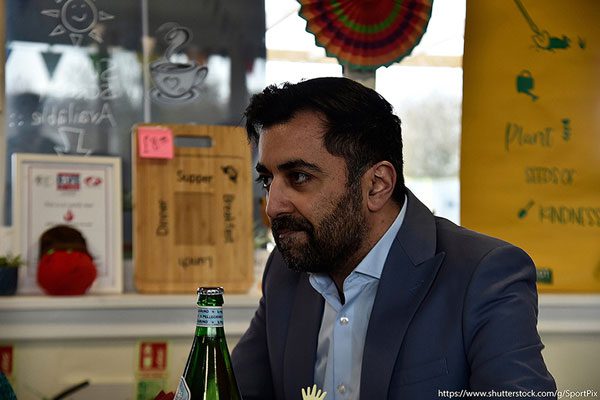 FIRST Minister Humza Yousaf has announced a crackdown on the sale of disposable vapes following reports on underage sales and environmental concerns.
During his new programme for Government announcement to Scottish Parliament on Tuesday, the first minister announced a new government consultation to consider a potential ban on the sale of disposable vapes in Scotland.
Yousaf said: "In the next year, we will take action to reduce vaping particularly among children.
"I'm pleased to announce this government will also consult on curbing the sale of disposable single-use vapes including consulting on an outright ban."
Speculation over the ban has been reported on across the morning, running across the front page of The Daily Record in Scotland, as concerns over the products have been growing in recent months.
This has included the revelation that more than one in seven people who vape in Scotland are underage.
Similar sentiments have also been echoed south of the border on the illegal sale of vapes to underage customers with Prime Minister Rishi Sunak announcing his intention to crackdown on marketing geared towards children as well in May of this year.
He said: "The marketing and the illegal sales of vapes to children is completely unacceptable and I will do everything in my power to end this practice for good."
However, there has been an emphasis on more responsible retailing of vapes across the whole UK instead of an outright ban on disposable products entirely.
Muntazir Dipoti, national president of The Fed, said: "We believe a ban would risk turbocharging an already booming illicit market.
"Vapes help many give up smoking and are part of life now. If we ban them, the black market will become even more active."
Along with this, many members of the industry have been urging the government to recognise vapes as a cessation tool, stating that this was ultimately their original purpose.
Pete Cheema, chief executive of the Scottish Grocers' Federation, said: "We are keen to engage with ministers on vaping and find the best way forward. Scotland has been a trailblazer on tobacco harm reduction and our sector is perfectly placed to continue to support smokers who wish to quit by raising awareness of vaping – proven to be the best-known alternative."