Scottish Food & Drink Fortnight returns for 2023 celebrating the best the country has to offer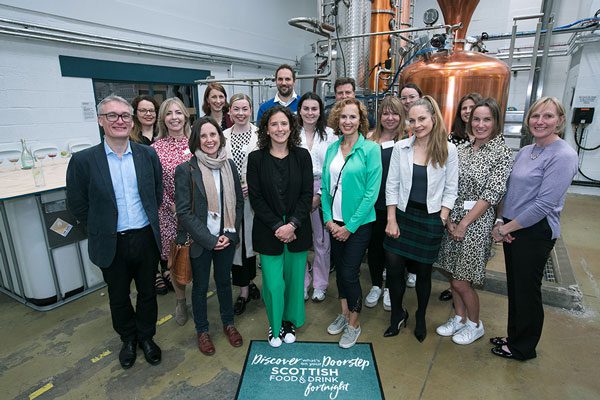 SCOTLAND Food & Drink has kicked off its annual celebration of all Scottish produce with its Scottish Food & Drink Fortnight.
Recognising the very best that Scotland has to offer across food and drink, the fortnight is packed with industry events that aim to encourage more consumers to think local with their food and drink choices in line with its 'Discover what's on your doorstep' tagline.
Fiona Richmond, head of regional food at Scotland Food & Drink, said: "Scottish food and drink is world-renowned. The country is home to some of the best quality produce in the market with innovative and determined individuals working hard to make our sector such a success story.
"The Scottish Food & Drink Fortnight offers the whole industry the opportunity to shine a spotlight on some of the nation's best producers, and celebrate the achievements of our home-grown brands.
"I'd encourage everyone to use the Fortnight as an opportunity to explore the fantastic producers on their own doorsteps."
Now in its 14th year, the Scottish Food and Drink fortnight will run until 16 September to help shout out and celebrate the producers, manufacturers, retailers, foodservice, hospitality and all those that work across the sector.
This year's celebrations kicked off with an exclusive event at Lind & Lime, a gin product made by The Port of Leith Distillery in Edinburgh, Leith's new vertical distillery which is set to open later this month.
And excitement for local produce is particularly high this year according to The Knowledge Bank which found that 89% of shoppers are looking to buy more food and drink produced in Scotland when shopping.
Anyone can get involved in the fortnight by visiting Scotland Food & Drink's dedicated webpage for the event to discover what is happening their area.
Mairi Gougeon, cabinet secretary for rural affairs and islands, said: "It is no secret that Scotland produces some of the finest quality food and drink in the world.
"Our food and drink offering has always been and continues to be of the highest quality. Consumers at home and increasingly around the globe know that every element of the production process is handled with the utmost care and expertise and with a determination to provide incredible produce from all the regions of Scotland.
"Food & Drink Fortnight is an excellent opportunity to celebrate all that Scotland has to offer and I hope that it encourages more and more people to discover what is available right here on their own doorstep."