Filling up on pods to bring in nicotine customers
NICOTINE shoppers are good value for money in convenience stores.
Not only are they seeking products that can provide good margins for store owners but they also generate a significant amount of footfall which can account for up to 30% of store sales, according to vaping firm Aquavape.
Bringing these customers into store should be a no-brainer, then – so it's just as important for retailers to stay up to date with the current trends across the category.
Ebrahim Kathrada, managing director at Aquavape, said: "The current trend in nicotine products within the vaping industry is that of pod system vapes.
"The pre-filled pods market – currently estimated to be worth £558million – is a lucrative sector for retailers to consider when assessing their vape offering. These SKUs are helping increase basket spend and driving footfall.
"We urge retailers to look at pod systems as they ensure consumers have access to a sustainable vaping future.
"Despite the retail price of the replaceable pods being cheaper than the RRP of the disposable vape pens, the retailers would still make the same margin as we offer competitive prices.
"The retailer is assured of repeat customers as the pods are specific to the pod device – unlike disposables, which are available to purchase everywhere and which consumers can buy  indiscriminately."
To help capitalise on the trend for pod system vapes, Kathrada shouted out Aquavape's SKE Crystal Plus MOD + Pods as the latest reusable pod kit on the market
 

that is more cost-effective and eco-conscious.

Aquavape also noted that it aims to take pressure off staff members across the vaping section with constant monitoring of the range under the Aquavape name.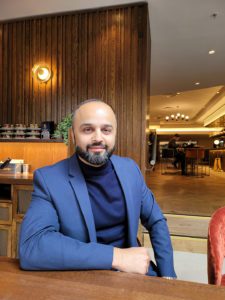 This allows the firm to identify which products in the range aren't selling as well and replace them if need be, Kathrada claimed.
And with POS for vaping products a permissible option for retailers as opposed to conventional tobacco options, retailers can push awareness of the options available.
Kathrada said: "Our effective merchandising displays products for easy navigation while driving sales. We tend to divide products according to category. For instance, where kits are shown, there will be accompanying tanks and coils.
"We group disposables of the same brand, as well as pod devices and their same brand of pre-filled pods. We also have education cards, which we refer to as silent salesmen, relieving the cashier or other staff members of the pressure of answering product queries."