A strong brand trust and presence across retail markets brings Mackie's of Scotland to sixth place
MACKIE'S of Scotland has continued climbing through the ranks once again this year to reach number six.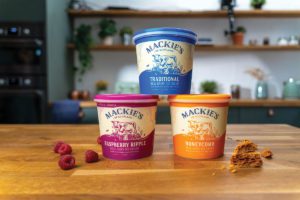 Moving one up from 2021's position, the Aberdeenshire ice cream brand has been far from frozen when it came to growth over the past year.
Angus Hayhow, marketing manager at Mackie's of Scotland, has put this continued success down to Scottish consumers' trust in the quality of the firm's products.
"We believe our focus on flavour and quality to have been the foundation of our continued success in Scotland, as each of these factors tally with Scottish consumers' highest priorities when food shopping.
"On these foundations, Scottish consumers have built up trust for Mackie's and respond well to our products' ties to the land they are from," he said.
TV appearance inspires ice cream sales
The firm kicked off the year with the spotlight shined on them with an appearance on Gregg Wallace's TV programme 'Inside the Factory' on BBC2, helping to introduce the inner working of the brand to potential new customers.
And this TV stint paid off as Mackie's noted at the time the firm had experienced a 200% increase in sales for its Honeycomb ice cream variant after the programme aired.
Mackie's certainly hasn't been shy on its NPD this year, either, with the launch of its new White Chocolate Raspberry variant and a Strawberry Swirl.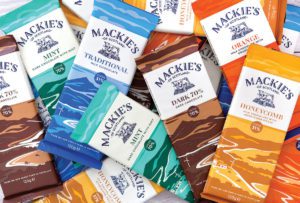 And in the chocolate aisle, Mackie's chocolate range has been steaming ahead with Scottish consumers.
The firm noted a 66% rise in sales for the chocolate range over the summer months this year and even secured a new listing on the tracks with its chocolates now stocked on the Caledonian Sleeper service.
Continuing sustainability efforts
Sustainability has been high on the agenda for Mackie's as well during the last 12 months, with the business's energy supplied by four 850 kW wind turbines as well as a 10-acre solar farm helping to produce twice as much energy as the firm requires to run, with excess provided to the national grid.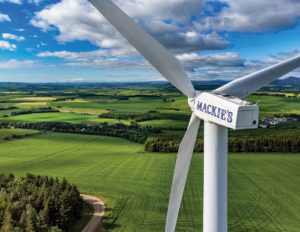 "Mackie's sustainability efforts continue, with 2022 seeing completion of its low-carbon refrigeration system, which will cut its refrigeration-related energy consumption by up to 80%," Hayhow said.
Hayhow also remained bullish for the firm's performance in the last year and is keenly looking forward to 2023.
He said: "Mackie's has seen sales growth during 2022, primarily driven by: new and expanded listings, the popularity of new flavours and convenient 120ml multipacks, as well as growing demand for its farm-made chocolate – all of which it plans to build upon and replicate in 2023.
"Increased store presence has been underpinned by marketing support focused on increasing brand awareness in new customers to drive market penetration.
"Mackie's looks forward to continuing to supply stores with Scotland's favourite ice cream."