Conflict causing availability chaos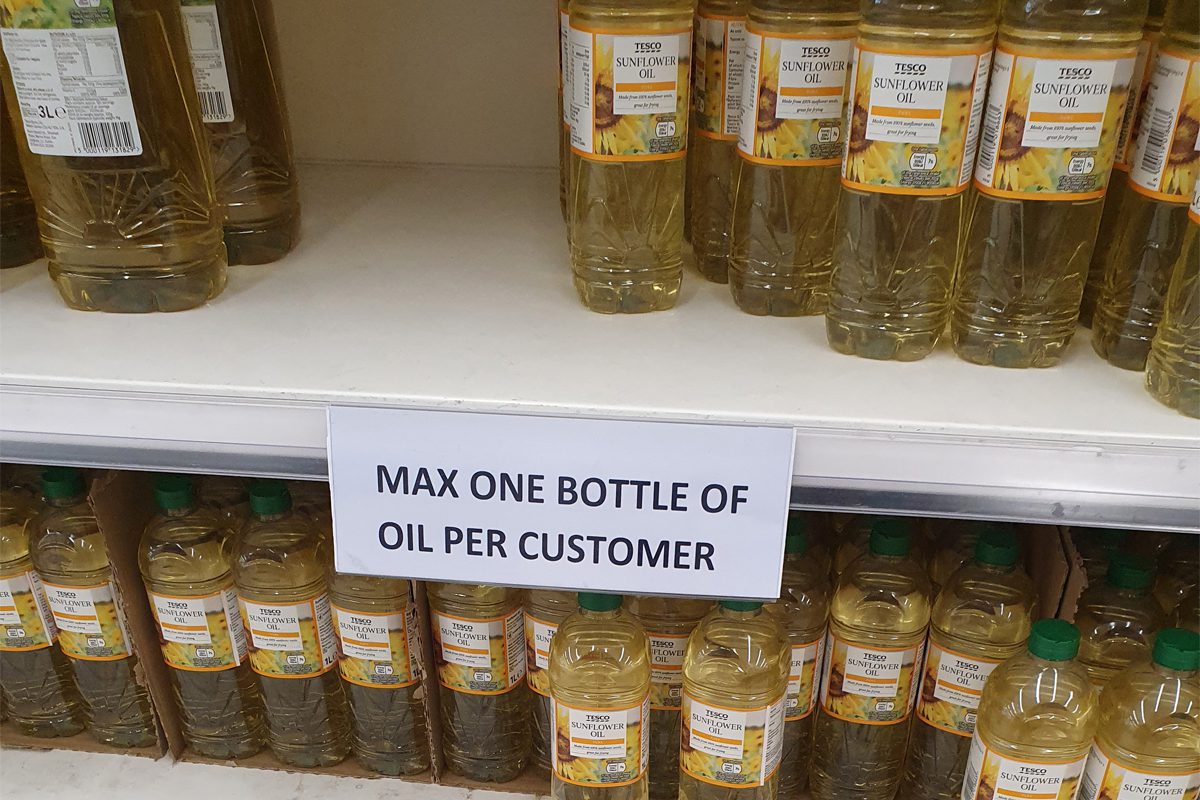 OUT of stock cooking oil has cost UK retailers millions of pounds in lost sales.

According to data from NielsenIQ for the year to 22 May, lost sales of cooking oil has already reached £18 million collectively for retailers in the UK due to heightened supply chain pressure, which includes fallout from the war in Ukraine.
France has been particularly badly affected, with NielsenIQ estimating that retailers have lost out on €57m in cooking oil sales.
Before the war, Ukraine was the largest exporter of sunflower oil in the world.
Russia, which is currently restricted by a slew of international economic sanctions, was the second largest producer.
Availability of cooking oil in UK stores hit 78% in May according to Nielsen, meaning that cooking oil was out of stock for 22% of shopping missions during this time. Wholesale prices for vegetable oils have also soared to record heights.
Supply chain pressure has also led to some supermarket retailers, including Tesco, Morrisons and Waitrose, temporarily limiting purchases of cooking oils on a per customer basis.
Dan Sutton, analytics manager for retail collaborative solutions at NielsenIQ, said: "In France, we saw an on-shelf availability rate of 75% of cooking oil in May, meaning that cooking oil was out of stock in 25% of cases.
"Not only can retailers lose significant sales as a result of out of stocks, but it also results in reduced customer satisfaction and lower loyalty levels.
"Our research shows that 30% of shoppers will visit a new store when they can't find what they're looking for, and 70% will buy a different brand when their regular choice is out of stock."
The heightened pressure on the supply chain has caused widespread disruption, leading to increased shortages globally.Western European countries like Spain and France have felt this hit on the supply chain, with out of stocks for the two hitting 5.4% for three days and 4.4% for four days respectively, according to Nielsen.
In the UK, NielsenIQ found that approximately 4% of fast-moving consumer goods were out-of-stock for an average of four days during the year to 22 May.
Sutton said: "While a 4% out of stock rate might seem small, the value in missed sales this represents is huge.
"The 4.4% out of stock rate in France resulted in € € 851 million in missed sales, for example, while in the UK, this 4% figure represents approximately £1 billion in missed sales."