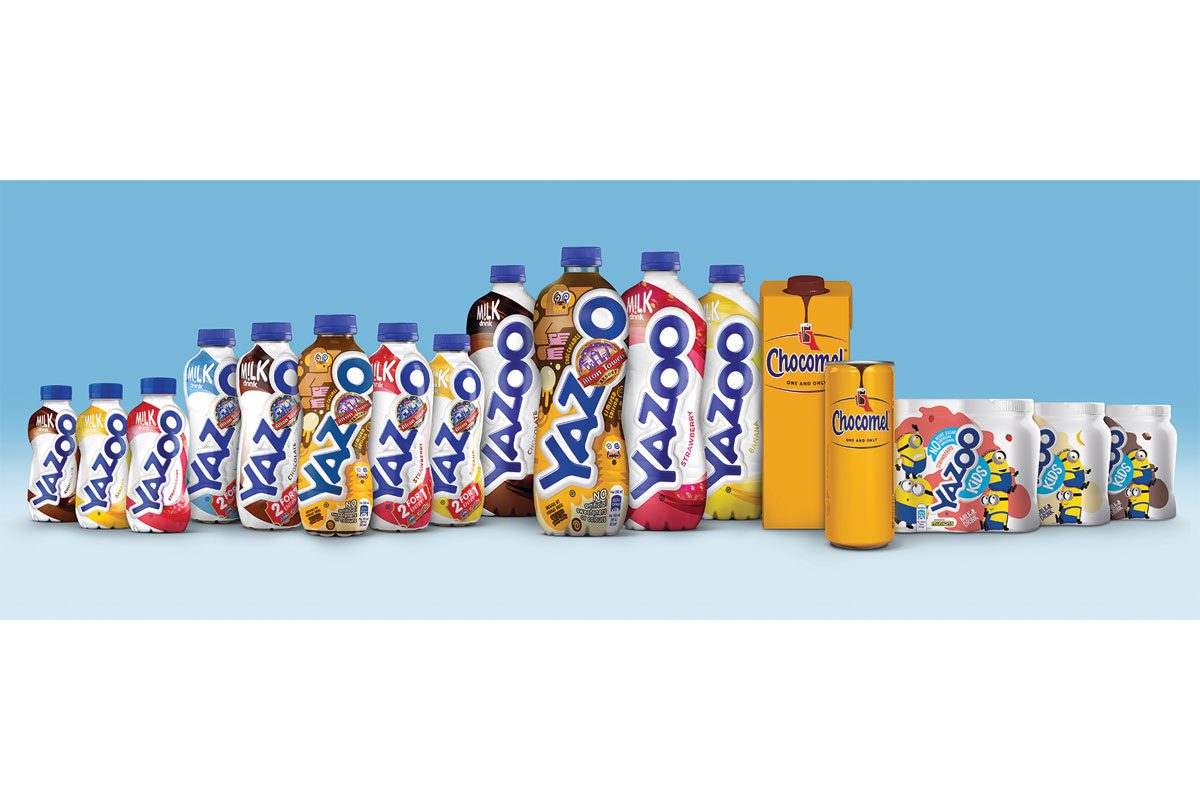 BALANCE is key to any product that has been created with kids in mind.
Children have different palates from adults, but at the same time they also need a strong diet of nutrients to grow up healthy.

Wayne Thompson, business unit controller for out of home at Friesland Campina reckons that's one of the reasons Yazoo is perfectly placed to appeal to kids and their parents alike.
"We're in a strong position when it comes to [high fat, salt and sugar]. All Yazoo milk drinks are HFSS-compliant.
"As a result, we can continue to invest in the category – with both above the line advertisements and in-store promotions, as well as a feature and display.
"Yazoo is free from artificial sweeteners, flavours, or colours, high in protein and is a source of calcium and vitamin B2, meaning it offers nutritional benefits that most of its competitors in the soft drinks category cannot," he said.
There's more to Yazoo's nutritional credentials than some on-pack claims too. The Yazoo Kids range is part of the NHS' 'Better Health Food Scanner App' campaign with all flavours, including the recently approved chocolate variant, holding a 'Good Choice' badge.
And when it comes to sustainability, Thompson said Yazoo Kids ticks the boxes too as all cocoa used in Yazoo Kids Chocolate is Rainforest Alliance certified.
Yazoo may have a good proposition on paper, but as shopper behaviour evolves in the wake of Covid restrictions, how might the brand fare in the convenience channel?
Very well would seem to be Thompson's assessment, as he suggested market conditions may be turning in the brand's favour.
"Convenience and out of home has always been the heartland for the Yazoo brand, and all signs point to an ever-improving recovery for this channel as more people are out and about in 2022 – good news for flavoured milks," he said.
What's good news for flavoured milk should be great news for Yazoo, as Thompson highlighted IRI EPOS data for the 52 weeks to 3 December 2021, which found Yazoo to be the UK's number one traditional flavoured milk brand. IRI Marketplace data for the convenience channel for the year to 3 October found the brand was worth £74m in the UK.
Thompson said: "We have great awareness with consumers – we continue to perform strongly and outgrow the flavoured milk category."
Things may be going well, but there's no resting on laurels at Yazoo according to Thompson, who highlighted how the brand's partnership with theme park operator Merlin strengthens its appeal.
"Our ongoing partnership with Merlin, with its two-for-one on-pack promotion for popular parks including Alton Towers, has played a role in driving brand success in 2021, and we are delighted to be continuing this successful collaboration in 2022," he said.