Catching up with Get More Vits director and co-founder Steve Norris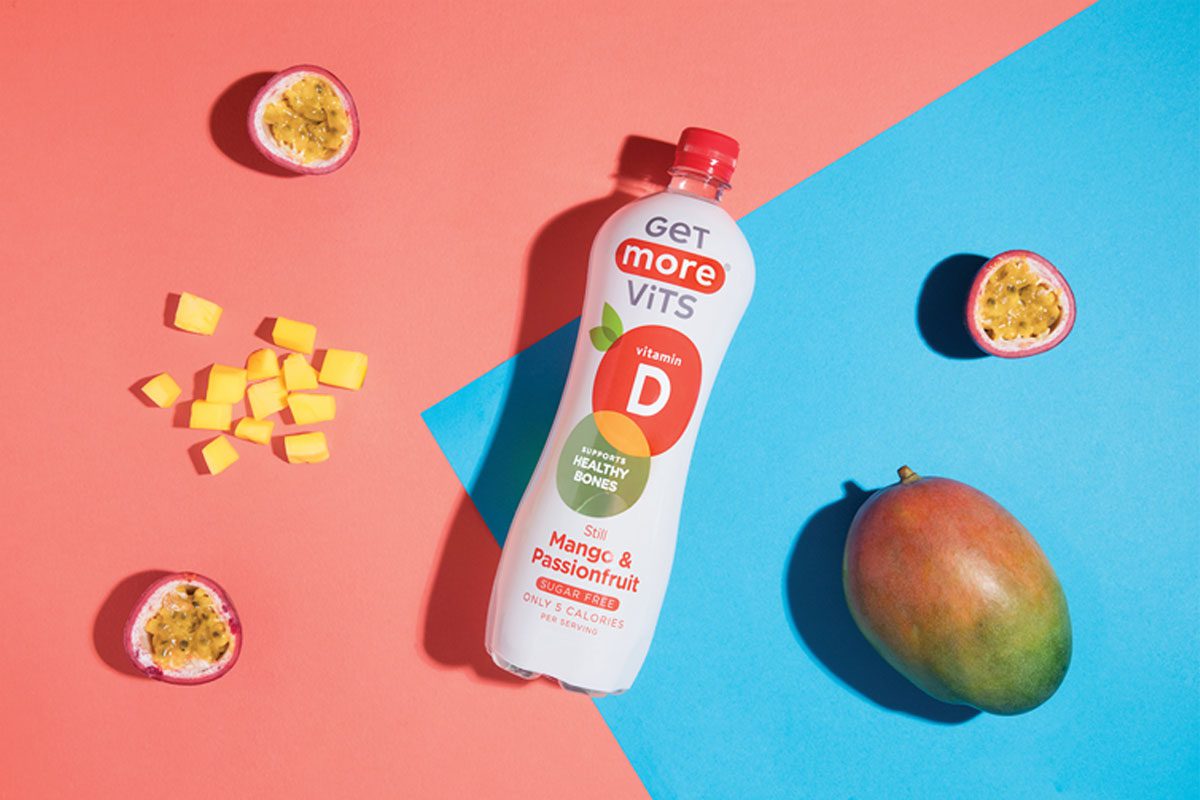 Where do you work?
I am one of the directors and co-founders here at Get More Vits, together with my business partner, Chris Arrigoni.
As co-owner of a medium-sized business, my role can vary. I mainly look after the sales side of the business with Chris handling all things production, finances and marketing.
However, due to our size, everyone at Get More Vits definitely gets involved with all elements of the business, meaning we are all very much in tune with what our colleagues are up to. My role often involves working with our NPD team to create new products and flavours and then pitching these to our retail partners and customers to explore the different ways that the Get More Vits brand can grow.
What's your brand's story?
Get More Vits was created back in 2013 by myself and Chris after we were both made redundant from a US based soft drinks company who decided to withdraw from the UK market. We noticed a real lack of products on UK shelves that both delivered on taste and functionality whilst remaining sugar free.
What's your USP?
Get More Vits is still the leading vitamin drink on the UK market, despite an increase in larger brands adding vitamins to their existing and well-known product ranges. Get More Vits is the UK's number one selling vitamin drink across multiple grocers (Nielsen data, obtained April 2022).
Our products deliver a simple message to consumers when displayed on shelf; Sugar free and low calorie, your daily dose of vitamins and made with UK sourced spring water flavoured with natural fruit extracts.
All of our drinks will always contain at least 100% of your daily dose of specific vitamins. This sets us apart from other vitamin drinks on the market which often contain a low and generic blend of vitamins, whilst we allow our customers to get the full daily dose and offer them the chance to choose based on which vitamin they know or think that they may need.
Who is the Get More Vits customer?
Our customers are attracted to our drinks for all types of reasons – ranging from those wanting to make healthier choices in their everyday lives, or those grabbing a tasty soft drink with their lunch on-the-go, to those wanting to reduce their sugar intake through their soft drink choices.
Making switches from regular sugar filled soft drinks or other branded flavoured waters is a great way to reduce sugar and calorie intake without compromising on taste, as well as increasing your vitamin intake at the same time.
Some of our customers also buy our drinks for the specific vitamin content contained. If people are unable to swallow standard vitamin tablets, our drinks offer an easy, convenient, and tasty way for them to get their vitamins instead.
What's your favourite part of the job?
I love seeing people try our drinks for the very first time, whether this be at consumer sampling events or new customers trying at trade events, everyone is always so pleasantly surprised that a healthy drink is so full of flavour. Winning over new customers, whether that be a new store listing or a local café stocking our range of drinks, is always a great feeling.
What's your favourite variant?
My favourite Get More Vits drink is our Sparkling Vitamin D Mango & Passionfruit drink available in 330ml sleek cans. I love the tropical flavour in sparkling form and the can feels very premium and fresh.
We created the canned range back in 2019 as an alternative offering to our fully recyclable PET range. From our range of healthcare products, I particularly love our Coconut Electrolytes with B Vitamins Effervescent Tabs. These are great for on-the-go and perfect to help me rehydrate and re-energise after a long run!
How important is the Scottish convenience channel to Get More Vits?
Our Scottish customers and the Scottish convenience channel are very important to Get More Vits.
Due to its northern location and fewer sunshine hours, Scottish consumers have generally lower levels of Vitamin D, so our products are particularly relevant and appealing in this market. We are delighted to be offering a range of products that meet a real need here, at the same time refreshing and hydrating consumers looking for a product that is healthy and innovative.
As a result our products are continuously thriving in the Scottish market as we partner with more and more wholesalers to broaden and deepen our availability to reach more and more consumers.
Our current wholesale partners include CJ Lang, Fife Creamery and Adamsons Drinks and our retail partners are Spar Scotland, Tesco, Asda, Sainsburys, Ocado and Margiotta Food & Wine, as well as on Amazon and our website, offering free delivery on orders to make it that much easier for consumers to Get More Vits.
On that basis, the Scottish market will continue be a key part of Get More Vits' business now and hopefully for many years to come.