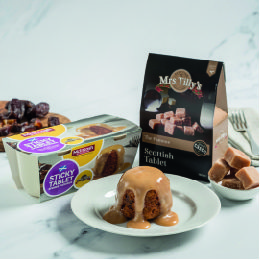 STRATHMORE Foods has stepped into the dessert category with the launch of new McIntosh of Strathmore puddings.
Last month saw the brand, which is best known for its chilled ready meals, launch three pudding flavours into selected Tesco stores across Scotland.
The new range sees Strathmore join forces with some of the best known Scottish brands appealing to those with a sweet tooth.
McIntosh of Strathmore's pudding range comprises three variants: Mrs Tilly's Sticky Tablet Sponge Puddings; Mackays Scottish Raspberry Sponge Puddings; and Mackays Dundee Marmalade Chocolate Puddings.
Julie Nisbet, managing director of Strathmore Foods, said the puddings offer Scottish consumers the perfect, warming treat as the colder weather sets in.
She said: "Our new range of puddings is a proper, comforting treat, giving a Scottish twist to some of the most loved, all time classic pudding flavours.
"Working with Mrs Tilly's and Mackays has helped us bring these wonderful Scottish flavours to the new range."