Meet the maker: Growers Garden boss Pete Higgins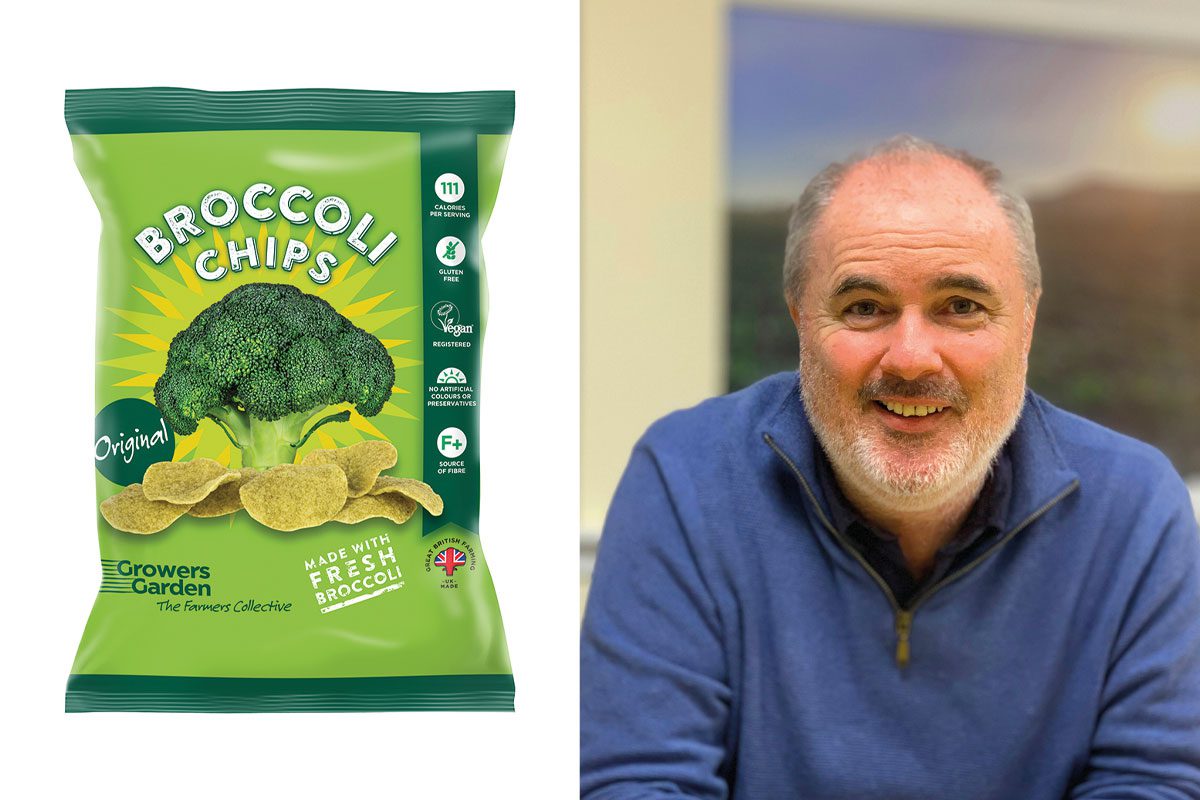 What's your role at Growers Garden?
I joined as CEO in April 2021. As CEO of a growing company, my role involves everything from finances, new business development, customer relations, operations, marketing, and quality control, to being a helping hand on the production line.
My main task is to scale the business in terms of production output and profitability, while maintaining strict quality of an innovative product.
What's your brand's story?
In today's climate, diversification is key for many farmers and reducing food waste is a pressing issue.
It was through a combination of these factors that Growers Garden and its all-natural broccoli crisps were born.
East of Scotland Growers (ESG) is a farmer's co-operative of 16 growers based in Cupar, Fife, growing fresh produce in fertile Scottish soils over a 180-mile radius.
Specialising largely in growing broccoli and cauliflower for retail and food-processing customers, members recognised the need to maximise their crop usage and minimise out-grade waste, while seeking an opportunity to obtain value from this 'waste'.
Identifying the UK-wide move towards healthier snacking products, ESG alighted upon crisps as the way forward for its wonky, over- and under-sized veg—but with broccoli, rather than potato, as the main ingredient.
With little expertise in snack production, the growers discussed their idea with those in the know but came across a stumbling block when they found that no one was willing to put fresh, wet veg through their dry-extrusion snack-making facilities.
Not to be deterred, ESG members funded and set up Growers Garden Ltd and set about building their own factory, completed in December 2019.
This move allowed the company both to manufacture its own fresh vegetable crisps and to enter in to discussion with other crisp and snack producers looking to develop wet-extruded vegetable snack products, as the state-of-the-art factory has considerable surplus capacity.
What's your USP?
We are now producing the world's first ever crisp made with fresh broccoli, in fact the number one single ingredient is fresh broccoli, never powdered. Once we had the idea, we knew it was important to get two things right straight away – texture and of course crunch.
With Growers Garden Broccoli Crisps finally a reality, the company has been able to fine tune its range, settling on four delicious flavours that include up to 30% fresh broccoli: Original, Chilli, Cheese, and Sour Cream and Chive. All our crisps are vegan, low in saturated fats, gluten free and dairy free.
Who is your consumer?
This healthy alternative to conventional crisps, which promotes sustainable farming and food-waste reduction at the same time as offering consumers maximum flavour, has captured the imaginations of retailers and consumers of all ages. The product is now stocked in Harvey Nichols and Selfridges as well as 350 independent farm shops, garden centres, and deli's and health shops throughout the UK.
What's a typical working day like for you?
What I love about this job is that no two days are the same. When I arrive in the morning, I will check my emails then discuss the day's production plan with our technical manager, as well as go over our prior day's targets.
I will then meet with our office manager, who also looks after our finances, to ensure our budgets are on track and if there were any particularly large orders going out that day. Other things include talking to potential new customers or dealing with existing customers.
How important is the Scottish convenience channel to Growers Garden?
It is extremely important. While we are the world's first manufacturer of crisps made with fresh broccoli, if we didn't have a paying customer, we don't have a business. The Scottish convenience channel has helped tremendously in helping the business grow.
What's on the agenda for the future?
We have big plans for our crisps. Right now, they contain up to 30% broccoli and we would like to increase this further. We're also looking at bringing in new flavours and carrying out trials with other vegetables, maybe we will be able to do something special for Christmas too – if we can make crisps from broccoli, maybe we can make them from Brussels sprouts.
Another main goal of ours is to use recyclable packaging. Our ethos is all about farming sustainably and reducing waste so introducing recyclable bags would allow us to be the complete package in terms of sustainability and respect for the environment.