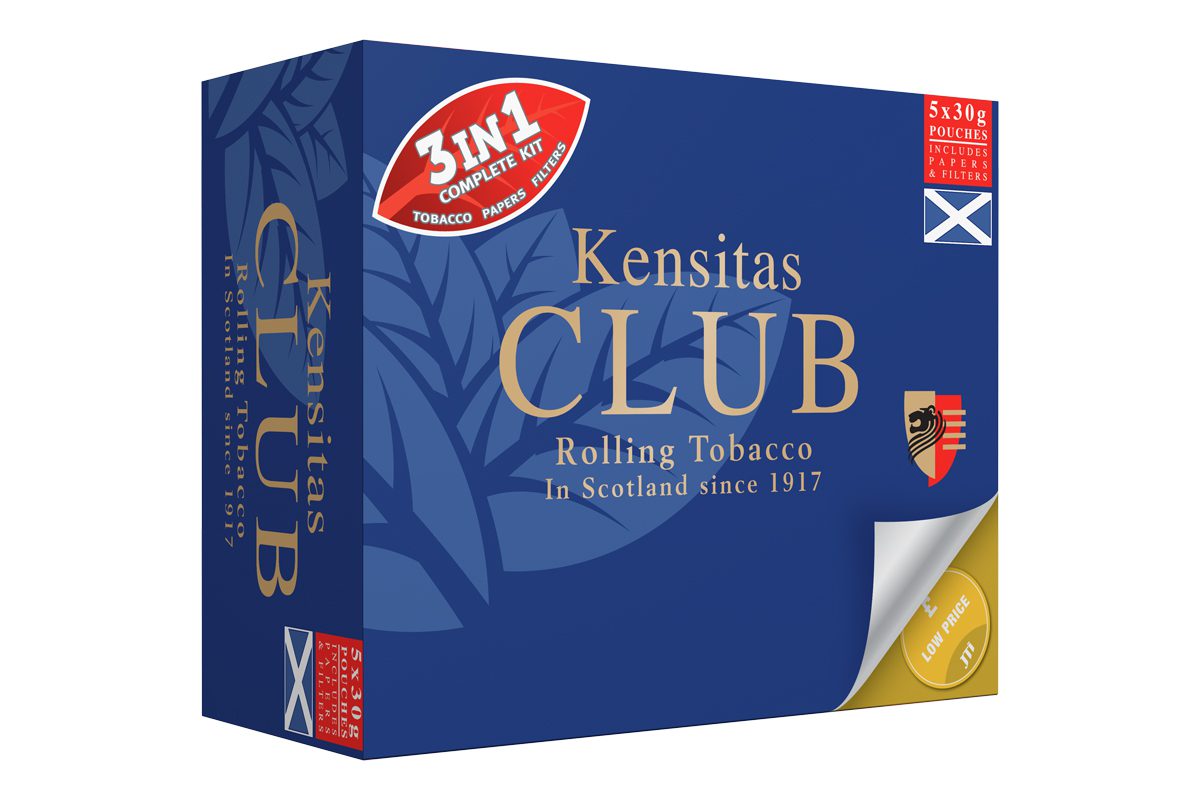 This article contains paid-for content created in collaboration with JTI
JTI has announced that it will be repositioning its Kensitas Club Rolling Tobacco in Scotland with RRPs of £11.95* for 30g 3-in-1, giving the range the lowest RRP for a 3-in-1 rolling tobacco product in the UK***, as well as £19.60* for 50g pouch formats.
Rolling out across all channels in Scotland tomorrow, Kensitas Club Rolling Tobacco offers the same great quality and convenient tobacco product in easy-to-use formats as previously sold, now with a better value price. With Kensitas Club being the fastest growing cigarette brand in Scotland¹, JTI's decision to lower the RRP reflects consumer demand for value RYO tobacco, which is currently leading the RYO Price Sector with a 50.1% market share², as well as offering retailers the opportunity to tap into the Kensitas Club growth. Retailers will also benefit from a 15% POR** offer in selected wholesalers.
Ross Hennessy, Head of sales at JTI UK, says: "We know that for many existing adult smokers, price is a key factor when deciding what brand to purchase. By repositioning the Kensitas Club Rolling Tobacco range in Scotland, it will allow retailers to capitalise on the brand's momentum and success over the past 100 years, as well as tap into the growing RYO segment which now generates sales of £3.7 billion a year³. We're confident that the price drop will provide Scottish retailers with an even more competitive product for existing adult smokers and drive incremental sales."
Stock up on Kensitas Club Rolling Tobacco 30g 3-in-1 and 50g today to make the most of this successful brand. For more information on Kensitas Club or any other JTI product, retailers should speak to their local JTI Sales Representative or call the help desk on 0800 163503. Retailers can also visit www.jtiadvance.co.uk for further information.
*RRP as of 09/04/2021. Retailers are, of course, at all times free to sell JTI's products at whatever price you choose.
**POR achieved when Club RYO is purchased at £42.32 (30g) & £69.42 (50g) and sold at RRP
***Based on assumed RRP's and on shelf prices as noted between 01.03.2021- 31.03.2021. To verify please contact: CustomerCareLine@jti.com
¹JTI Estimates Volume Market Share, Total RMC Category, Scotland Barb Region, over the last 12 months to Feb 2021 (based on slope circulation)
²IRi Market Place, Volume Share, Total RYO/MYO, Total UK, Dec 2020
³IRiMarket Place, Value Sales, Total RYO/MYO, Total UK, MAT To 17/01/21