Research and training firm IGD predicts growth for food to go in the UK, with c-stores set to grow market share
HOP aboard the food-to-go train now, or risk missing out on some serious growth over the next half decade.
The latest research into the category from IGD has predicted growth of 12.5% for food to go in the UK over the next five years – double the growth of the nation's wider food and grocery market.
That growth will be shared across channels, but for convenience the opportunity is a big one, with IGD predicting sales will increase from £2.9bn in 2019 to £3.8bn in 2024.
Market share will also improve, increasing from 15.5% in 2019 to 16.1% in 2024, according to IGD.
Rhian Thomas, head of shopper and food to go insight at IGD said: "Convenience and food to go are increasingly intertwined, as food to go success becomes increasingly critical to the prospects of most convenience stores.
"Similar principles apply to the forecourt channel, where the added need to encourage dwell time among shoppers will grow in importance as the factors influencing where and how people stop on the road shift."
Thomas said consumer expectations around c-store and forecourt food to go are "rising fast", creating an opportunity for business owners to invest and upgrade, "or else risk getting left behind."
"The good news here is that there's lots of growth to go for, and in many locations there remains opportunity to do more to meet these evolving shopper needs.
"Those businesses who focus more on emulating competitors rather than investing in how they can innovate will meet the big challenges," she said.
Convenience isn't the only channel with capacity to grow; IGD has predicted coffee specialists, such as Costa Coffee, Starbucks and Caffè Nero – could also see their market shares increase. The firm reckons the coffee specialist channel will increase market share from 17.8% in 2019 to 18.2% in 2024.
The future does not look quite so bright for the big multiples, or food to go specialists according to IGD.
While IGD predicted sales should increase at the supermarkets, up from £1.5bn in 2019 to £1.8bn in 2024, the firm's research also forecast a slight dip in market share from 8.1% to 7.8% over the same period.
Thomas said that expanding food to go and food service zones should be a "key strategy" for the multiples if they wish to bring more shoppers into stores and encourage them to spend more while they are there.
What is clear is that significant growth opportunities exist for those with a relevant proposition who target the right locations.
The food to go specialist channel – including brands such as Greggs, Subway, Pret A Manger, and Eat – was also predicted to see a slight dip in market share.
IGD's food to go research valued the specialist channel at £5bn in 2019, and predicted growth to £6.3bn in 2024, representing a razor-thin drop in market share from 27% to 26.9%.
Thomas said that over the last year, brands in this channel have experienced contrasting fortunes, with plenty of opportunities on the horizon, but also plenty of challenges.
"What is clear is that significant growth opportunities exist for those with a relevant proposition who target the right locations.
"While menus continue to evolve, with vegan and vegetarian lines gaining more profile on many menus in 2019, the location question is a fascinating one right now.
"The combination of high rents and increased competition on high streets encourages a growing number of operators to vary their location strategy," she said.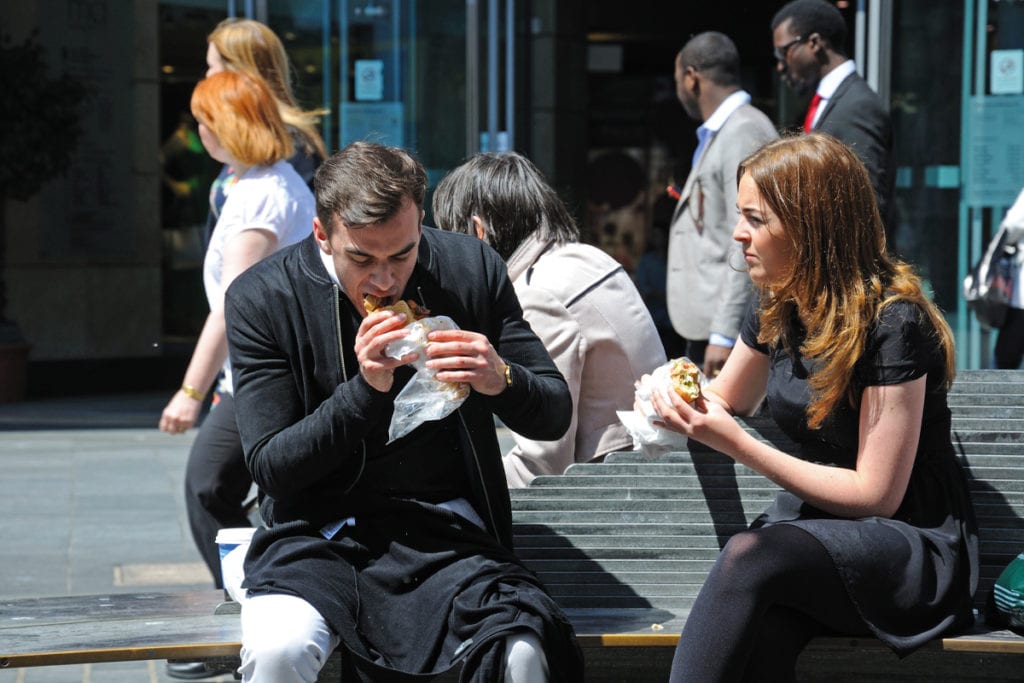 Getting the location strategy right may be key to success for the big chains, but Thomas also suggested the difference between success and failure over the next five years could come down to the gap between lip-service and a serious commitment to food to go.
"While there continue to be good opportunities for growth in this area, the gap will continue to grow between those businesses who are actively targeting food to go growth and those who simply want a presence in the channel.
"Opportunities remain, however, for those with clearly defined and relevant strategies," she said.
Positive forecast for convenience
| FTG channel | 2019 (£bn) | 2024 (£bn) | 2024 market share | % change 2019-2024 (compound annual growth rate) |
| --- | --- | --- | --- | --- |
| Convenience & other retailers | 2.9 | 3.8 | 16.1% | 5.4% |
| Coffee specialists | 3.3 | 4.3 | 18.2% | 5.2% |
| Food to go specialists | 5.0 | 6.3 | 26.9% | 4.6% |
| Quick service restaurants | 5.8 | 7.2 | 30.9% | 4.5% |
| Supermarkets and hypermarkets | 1.5 | 1.8 | 7.8% | 3.6% |
| Total | 18.5 | 23.4 | | 4.7% |
Source: IGD Research. Note: numbers and market shares may not add up to total due to rounding. Figures calculated from full 2019 and 2024 estimates.