Dunnet Bay Distillery goes from strength to strength
LOCATED less than five miles from the most northerly point in the UK mainland, you could hardly find a more remote spot than Dunnet Bay Distillery.
Caithness might not be the easiest place to run a business, but distillery founder Martin Murray has been determined to make a success of his rural distillery.
"I wanted to raise a family in my home area, and the only way to do that was to create employment for myself. So myself and my wife set up the distillery to create two jobs- one for me and one for her," he said.
Murray has come a long way from employing just two staff members; the distillery's Rock Rose gin has snapped up just about every award going in a relatively short period of time.
Opening just five years ago, Dunnet Bay Distillery's range of premium gins and vodka are now sold in more than 18 different territories worldwide.
Yet the lion's share of Dunnet Bay's sales are still in Scotland, and Murray reckons people are increasingly look for home-grown products.
"I think consumers are interested in two aspects. An exciting product, a beautiful bottle; but also a Scottish product.
"The market is crowded, but sales of gin are still growing- especially in the premium sector.
"If you actually turn our product round and read a bit about it on the back, you can find out it is a small independent distillery with every bottle hand-numbered and hand-waxed.
"You will find that sales are really strong because of the job we have done with the packaging and presentation," he said.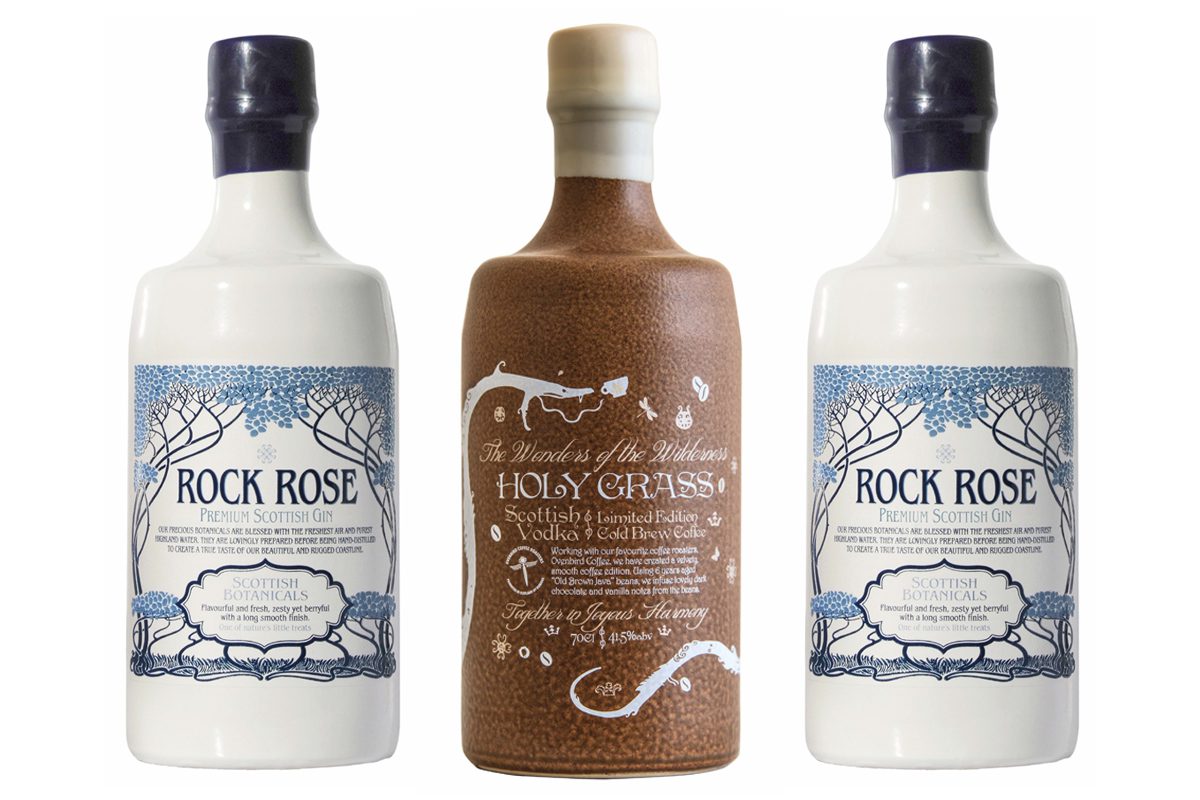 Some of Dunnet Bay's biggest sales have come from the off trade, where Murray said his striking bottles "lend themselves to being on the shelf."
"We tend to find that independent retailers are great at knowing a bit about the products they are buying, knowing the stories – which they can then pass on to people," he said.
But even the most enthusiastic gin drinkers may be overwhelmed by the number of products now on the market. Why should they choose Dunnet Bay's Rock Rose?
"Our gin is not super-perfumed," said Murray, "it's not going to be offensive to those who used to drink gin in the past. It is more accessible, it's got nice citrus notes, it is made for a classic gin and tonic."
And for those who like more unusual flavours, Dunnet Bay also has them covered.
The distillery releases a special edition Rock Rose gin for every season, with different flavours representing spring, summer, autumn and winter.
This kind of flavour experimentation has also extended into the distillery's Holy Grass vodka. In May, the distillery released its first cold brew coffee vodka.
"We were always using our vodka to make espresso martinis. So I thought, why not put the coffee beans into our vodka?
"Most coffee vodkas are sweetened, or they have additional flavours added to them. We didn't want to do that, we wanted to let the flavour of the beans shine through.
"If you think about it, when you give a coffee to someone, some people will add sugar and some will have it without.
"So we left it unsweetened so that if people wanted to sweeten it then they could, but if they wanted it without then that option was there for them.
"We can only make 5,000 bottles of it a year, but we have already sold 3,000 bottles after two months."