Two variants of the new energy drink will launch in July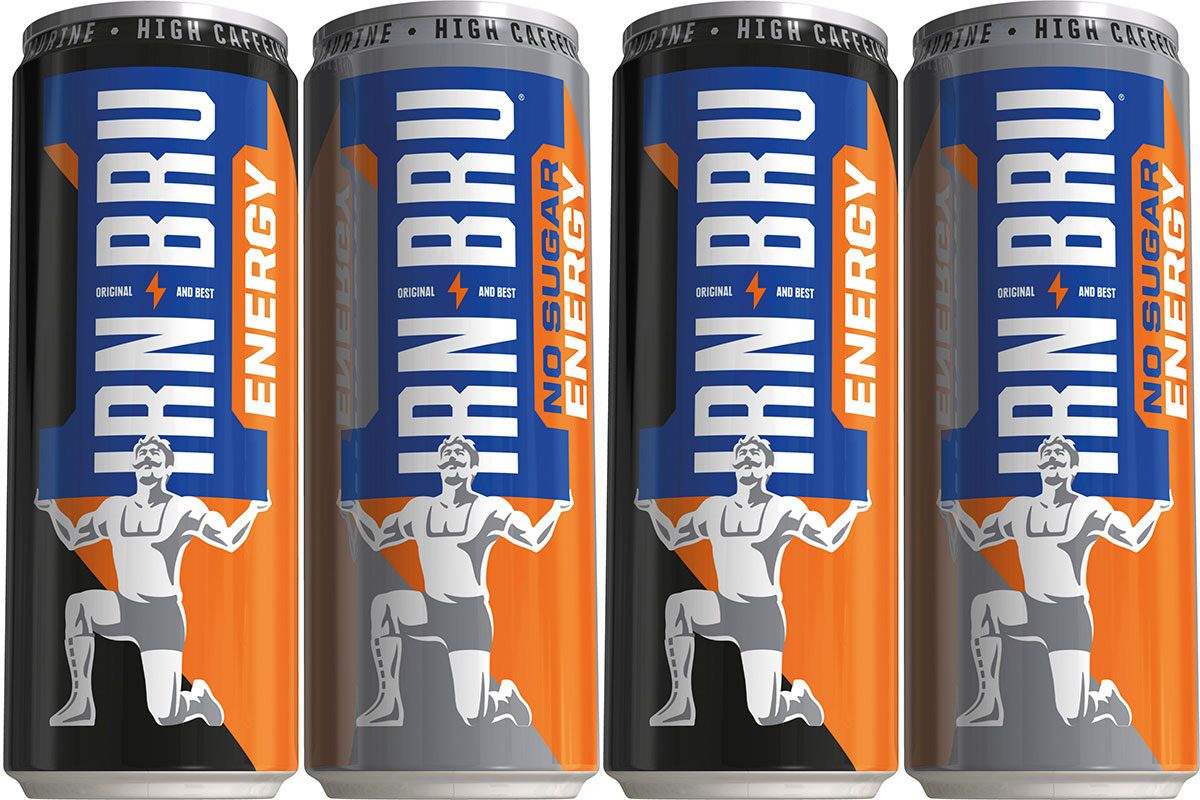 The Scottish soft drinks market is set for a major shake-up after AG Barr announced the launch of Irn-Bru Energy.
The new functional energy drink will roll out in two flavours – Sugar and No Sugar – from 1 July.
Although AG Barr made a much-publicised decision to cut the sugar in its original Irn-Bru drink, the new drink will contain higher sugar levels in line with the rest of the energy category.
AG Barr commercial director Jonathan Kemp stressed that the firm was not returning to a full-sugar Irn-Bru, but instead launching a brand-new drink.
"We believe it is right to have what people expect from an energy drink," he told Scottish Grocer, "and the majority of drinks in this market are full sugar."
But, although the energy drinks category is still somewhat skewed towards high-sugar drinks, a no-sugar version will also be available for consumers who are concerned about their health.
AG Barr had previously launched an energy drink in the shape of Irn-Bru 32 – but Kemp said that Irn-Bru Energy was a very different product.
"The energy market then was different to what it is now, now it is a much larger category.
"And while Irn-Bru 32 had quite a sharp taste, this is a much smoother drink."
Energy is an exciting and fast-growing part of the soft drinks market, delivering high profit per litre.
Unlike Irn-Bru 32, Irn-Bru Energy will be sold in taller, thinner cans that more closely resemble other energy drinks on the market.
And Kemp advised that it should be merchandised as part of an energy section rather than alongside other varieties of Irn-Bru.
This could place Irn-Bru Energy next to Barr's existing Rockstar energy brand in the chiller.
But according to Kemp, the two products are designed to complement, rather than compete with, one another.
He pointed out that Irn-Bru Energy had a "unique flavour" and was clearly set apart from Rockstar due to the former's higher price point: £1.19 RRP or 99p PMP for the Sugar variant and £1.09 RRP or 89p PMP for the No Sugar.
Kemp recommended that retailers stock both the full sugar and no sugar versions of Irn-Bru Energy, as well as making full use of the POS materials that will be made available by AG Barr representatives.
"We're confident that demand for both of the new Irn-Bru Energy products will be high, as four out of five energy drinks bought currently are regular and the low-calorie energy market is growing 16 times faster than the full sugar sector.
"Energy is an exciting and fast-growing part of the soft drinks market, delivering the highest profit per litre for retailers, with over four in 10 soft drinks sold in Scottish convenience stores being an energy drink.
"Scottish consumers spend 40% more on energy drinks than the rest of the market and 70% of Scottish energy consumers already drink Irn-Bru."
The launch will be supported by nationwide advertising, running from the end of July.