Convenience retailers share their tips on how to make the most of social media for your store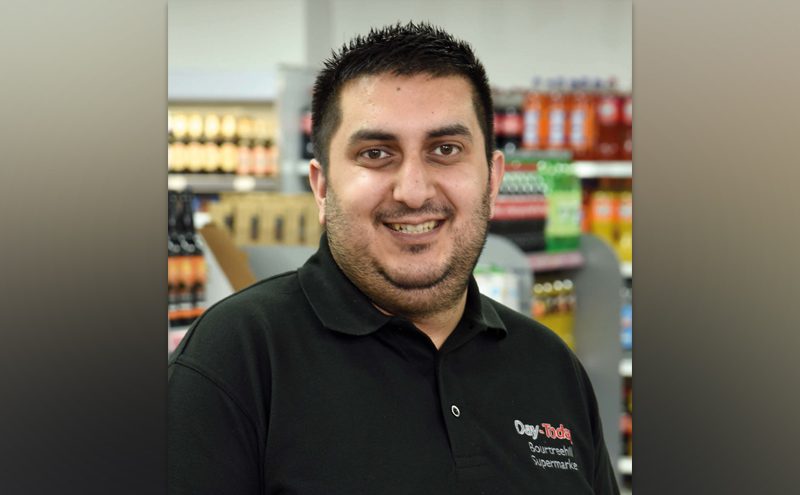 LIKE it or loathe it, social media is a huge part of Scottish society in 2019 – and it is only set to get bigger.
The demands of running a c-store can make it easy to push social media down to the bottom of your to-do list, but failing to engage in online activity could mean missing out on valuable sales.
Scottish Grocer caught up with two retailers who have made social media a central part of their business, getting valuable advice on how best to turn Facebook posts into paying customers.
Ross Macpherson, of Doonfoot Day-Today, said that convenience stores who don't use social media are "missing out massively."
"It is a huge, huge part of what you are trying to do in the community," he said.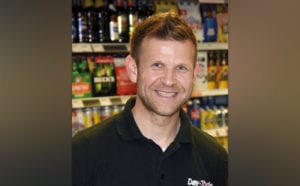 "Sometimes I will be so busy, and not in the mood, but I know I have to post to make sure people stay focused on the page.
"I understand that some retailers don't know how to work it, but everything is going that way, unfortunately."
For Ross, the value of social media became clear when he used it to promote a new gin range that he introduced to his store.
He sourced the gin from a supplier in Glasgow's west end, posted a picture of it on his store's Facebook page, and by the time he made the hour-long journey back to Ayr his entire stock of 36 bottles had been snapped up.
"We sold 150 bottles in two and a half weeks. That was purely social media – I didn't even have it in the shop.
"It wasn't a hard sale, it was more about being brand new gin with a really cool bottle.
"We sell a lot through social media, without actually making an effort to sell a product."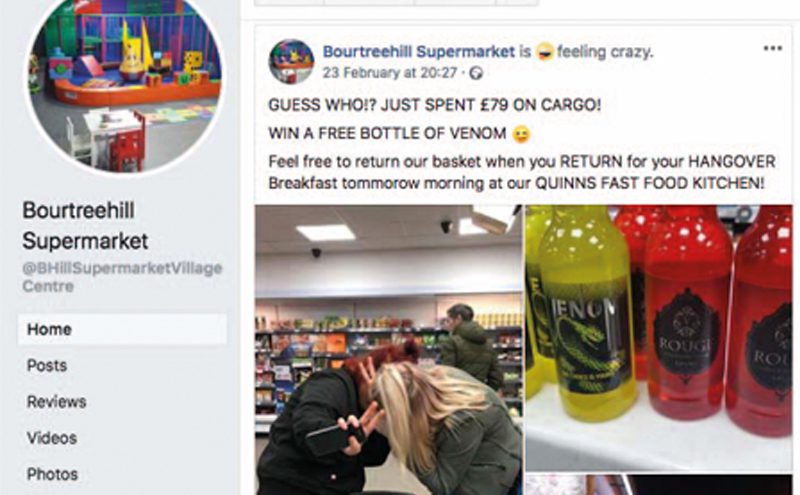 But although social media is obviously valuable for boosting sales, Ross warned retailers that they should not view it as a platform to solely push products.
"Most of the convenience stores that I follow online are committing crime after crime, they are just trying to sell their shops online.
"We try focus on a fun factor instead – both our stores are community stores, and the community will detach themselves from your store if you are just trying to sell things."
This advice was echoed by Imran Ali, of Bourtreehill Supermarket, who stressed the importance of having varied content on social media.
"I try and keep it a mix of things: some banter, posts about my mega deals, and what I am doing for community involvement.
"It is 100% not just about posting products."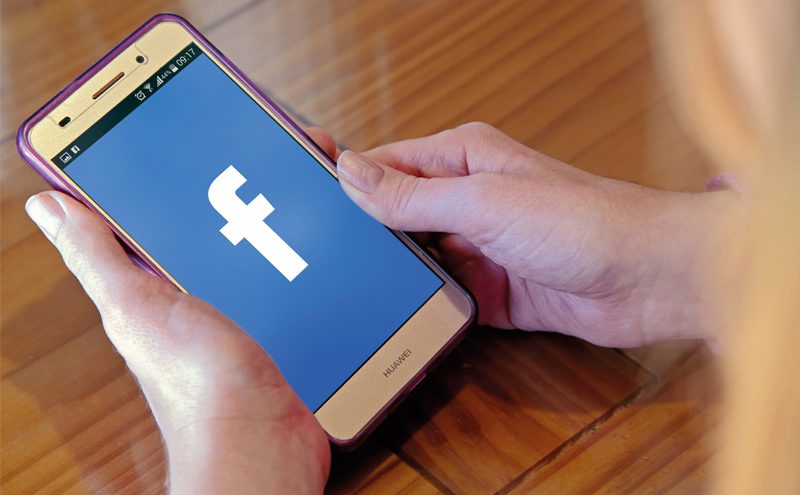 Despite having only opened his store in October 2017, Imran has already amassed an impressive audience of more than 2,300 followers on Facebook.
Trial and error has proved a key part of that success, with Imran closely monitoring what kind of content performs well online.
"I have been learning as I go along that it is not just about selling, it is trying to get the balance right.
"I do it regularly, that is why I am always on my phone throughout the day, I am checking the statistics and the numbers.
"Certain posts take off really well and certain posts don't, but I try to monitor it all."
Through trial and error, Imran also learned that posting content at certain times leads to a better uptake.
"If it is an evening meal deal and I post it in the morning then I might not get as many people looking at it.
Ross Macpherson has found social media to be an invaluable asset.
"It is good to think of timing – if it is a banter post to do with alcohol then it might be better to post that at the weekend, when people are going out to drink."
Imran has also realised that, despite how busy he may be, social media accounts will only flourish if content is posted several times a week.
"I try and do a post every day, or at least every couple of days. Social media really is crucial now."
And although retailers might say they don't have the luxury of spending time on social media, Imran insists that it is worth prioritising.
"A lot of retailers complain that social media is time consuming, and they don't have time for it," he said.
"But there are a lot of corner shops out there, so you need to think outside of the box and think what other shops aren't doing. You need to stand out and get attention.
"If I put my 'managers mega deals' up, which are my own, not part of the symbol group, then I definitely get an upturn. I probably sell about 300% more on those deals.
"If it wasn't for social media, I wouldn't sell anywhere near the volume I do. Facebook has been a massive help for that."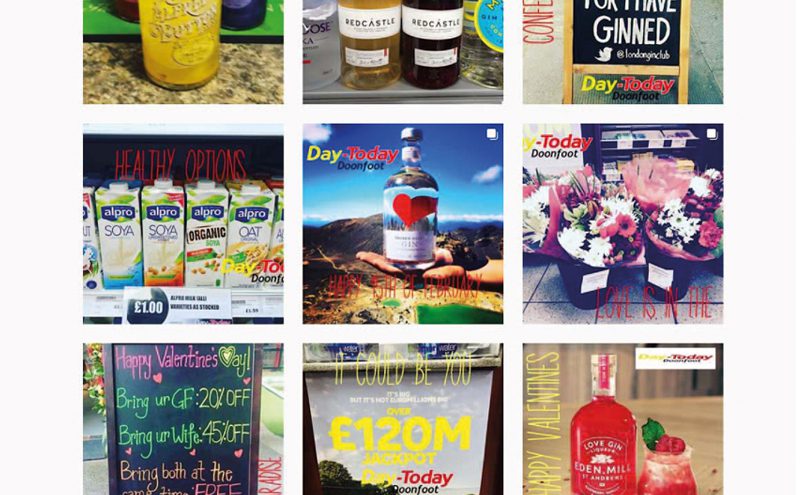 Imran said that he does recognise that not all of his customers will be on social media, and so he still uses traditional marketing methods alongside his online activity.
"It is a balance, not everyone is on Facebook, so I still deliver leaflets as well.
"It is a mix of different things, and if you get the balance right then you are hitting each kind of target market."
But ultimately, for Imran, the advantages of social media are unmistakable.
"We are noticing massive benefits, the attitude that customers have when they come in, we are seeing customers we've never seen before and they are telling us that they follow us on Facebook."
Yet, there is still scope to do more, with Imran noting that Bourtreehill is not yet on Instagram or Twitter: which tend to be more popular with younger generations.
Ross, on the other hand, has already taken the plunge and set up an Instagram account for his Doonfoot and Barassie stores.
"I think Instagram is more for slightly younger people, older people might have Facebook but not Instagram," he said.
"With Instagram, I am trying to do things with that to bounce people back onto the store's Facebook.
"Someone gave me the advice of using my logo, so we have been putting our logo across all our pictures, everything."
Video content is one area that is becoming increasingly popular on Instagram, and it is a skill that Ross is eager to refine moving forward.
He has already created a few videos on his store's page, with one involving a slideshow of pictures that showed how to make chicken fajitas from scratch.
The canny twist? All the ingredients that were pictured in the video had been bought in his store, and were available for watching viewers to purchase.
Recipe videos of this nature are exactly the type of content that c-store retailers could use to really get noticed, while helping boost sales at the same time.
But Ross isn't planning to stop there, and insists he wants to get more comfortable behind the camera.
"Our shops don't turn over the most money," he said, "so we have to work twice as hard.
"Some shops have a huge turnover, but it can be very hard for us to get folk in the shops.
"Social media gives me a different approach."