Ribena rolls out enhanced water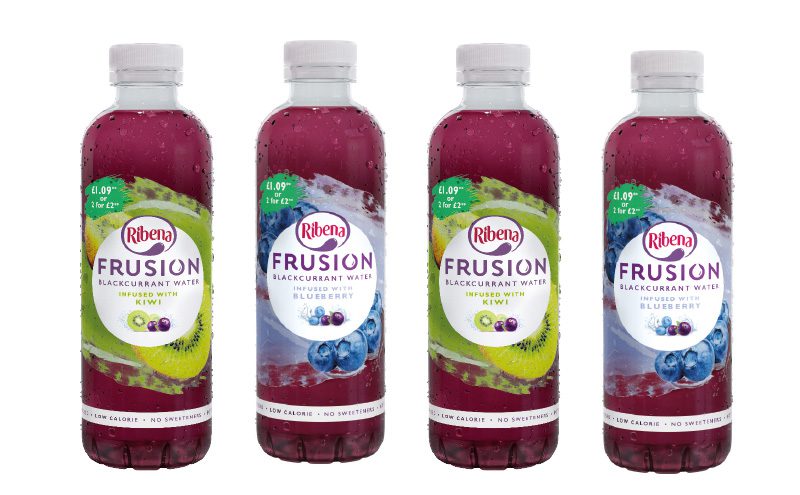 SHOPPERS looking for a functional soft drink with some fruit flavour are in luck this summer, as Ribena enters the enhanced waters subcategory for the first time.
Lucozade Ribena Suntory (LRS) has announced the launch of new Ribena Fusion – a low calorie proposition comprising blackcurrant water infused with real fruits and botanicals.
The new Ribena sub-brand is available from this month in three flavours: Kiwi and Blueberry, which come in a 420ml bottle made from 100% recycled plastic; and Kiwi and Lemon Peel, which come in a 1L pack.
LRS said that the Ribena Frusion range is targeted at health-conscious adult consumers. Support for the launch includes a £6.2m marketing campaign including TV, out of home, and digital advertising as well as in-store sampling activity running from May.
Blanche de Gramont, senior brand manager for Ribena at LRS said: "We are absolutely thrilled to be able to launch Ribena Frusion, a refreshing and unique blackcurrant water infused with real fruit and botanicals to give consumers a feel-good choice when it comes to hydration that tastes great.
"The fact that we are supporting Ribena Frusion so heavily shows the focus that we're putting on Ribena in 2019 and gives retailers real belief in this launch and the wider Ribena brand.
"Ribena Frusion taps into the consumer need for tasty hydration, wellness, and enjoyment, while bringing incremantality to the category.
"This is a huge launch for the Ribena brand, and builds on the expertise that Ribena has in working with the mighty blackcurrant.
"Ribena Frusion will cater for a growing segment of the population and become an integral part of shoppers' daily routines."