Pernod Ricard says premium spirits are essential to strong festive sales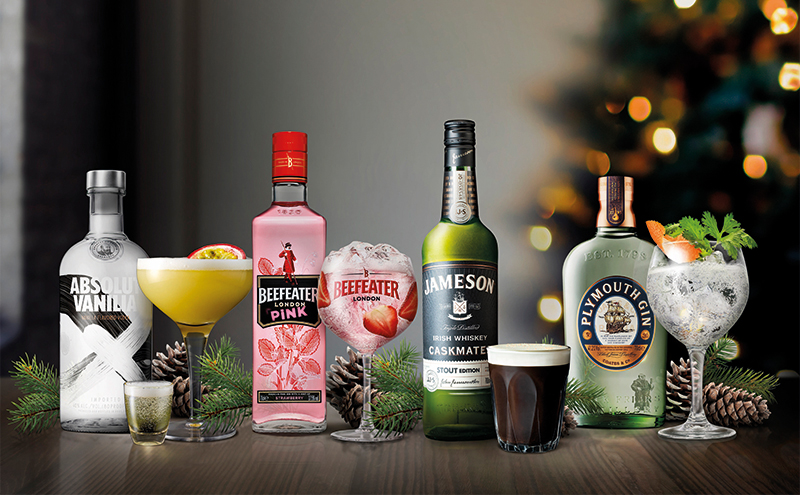 CHRISTMAS lights will soon turn town centres into a winter wonderland, and retailers will hope that their store is as busy as Santa's workshop by the time December comes around.
Once the celebrations are in full swing, the opportunity for off sales doesn't get much bigger, and spirits giant Pernod Ricard UK reckons this Christmas is the year for c-stores to put their weight behind premium brands.
For 2018, the firm is investing £3m into Christmas marketing in a campaign that focuses on Absolut, Jameson, Plymouth Gin and Beefeater Pink.
The brand said it is "calling on" convenience retailers to plan an eight-week Christmas campaign from November, to promote premium spirits and make the most of the £18.4m sales opportunity that the trend provides.
By the spirits giant's calculations, if every store took an additional three bottles per week in spirit sales in the eight weeks before Christmas – equivalent to £557 – then the channel would command the same market share as grocery.
When it comes to Beefeater Pink Gin, Pernod Ricard pointed out that impulse retailers could sell almost double the volume of this new SKU in stores if they matched grocery conversion.
The firm also said that vodka has plenty of untapped potential, as flavoured vodka drove all vodka category growth in the last year in impulse, but only has 55% distribution in this channel.
According to Pernod Ricard, its Absolut Vanilla vodka could be a key product to promote in the run up to Christmas to ensure more of these sales are captured.
Its own 'Mix with The Good Stuff' campaign will include four key serves: Jameson Irish Coffee, Absolut Porn Star Martini, Plymouth Gin & Tonic, The Beefeater Pink & Tonic.
The campaign will be supported with significant investment in premium on-trade activations, as well as NPD launches such as Jameson Caskmates Stout Edition.
Jameson is the biggest Irish whiskey brand worth £94.4m, so the firm are confident the new release will be popular with Christmas shoppers.
Chris Shead, off-trade channel director for Pernod Ricard UK, said: "This is a huge opportunity for retailers and one they can get right by doing three things: Ensure premium spirits get proportionately more shelf space than standard, increase basket spend by advertising cocktails in store, using our POS, and finally, ensure NPD is listed to excite consumers looking for new flavours and tastes."