Retailers put weight behind Halloween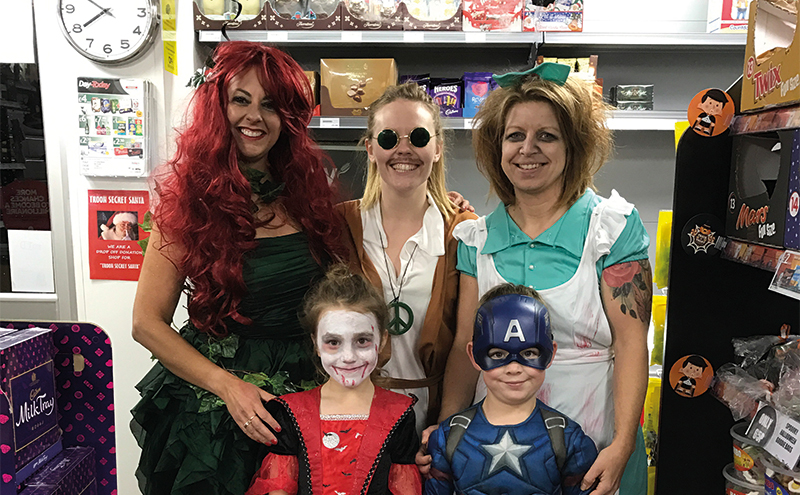 WITH Halloween providing such a valuable sales opportunity for retailers, going the extra mile to celebrate the occasion can entice customers in store and help boost sales.
Barassie Day Today in Troon is one store that puts in a spook-tacular effort around Halloween – with decorations on display, staff members dressing up and sweets given out to children who come in costume.
Staff member Zoe Packard said that for 2018 the Halloween festivities will kick off at least a couple of weeks before 31 October, ensuring that the occasion is really ramped up in store.
It's not just the decorations that make the season at Barassie Day Today, the store also views Facebook as a key tool to getting customers involved with Halloween activities.
The store uses both its own page, and that of a local community initiative, to promote the festivities online and encourage the community to come along.
With prizes awarded for the children with the best costumes, Zoe said that the store gets "a lot of people coming in and making an effort".
For Rajous Premier Express in Glasgow's Gibson Street, it is an entirely different audience that flocks to the store during Halloween – thanks to nearby University of Glasgow.

Pravin Mahindru, co-owner, said that, with the area being popular with students, the alcohol sales tend to shoot up around Halloween.
"Business is definitely better because people are in a party mood, and when you are in a party mood you are selling more stuff.
"It's not anything in particular, you just notice that right across the drink range it goes up around that time."
Despite being older and – allegedly – wiser, Pravan finds that the students often go to similar lengths as the local children to make sure their costumes stand out.
"We get people coming in in costume on their way to parties," he said, "and there's been quite a lot of good ones, the students really make an effort."
With the Halloween season a matter of weeks away, it looks like it might be time for both stores to brush off the decorations – and to make sure their respective confectionery and alcohol ranges are well-stocked.