Musselburgh store one of four in UK trial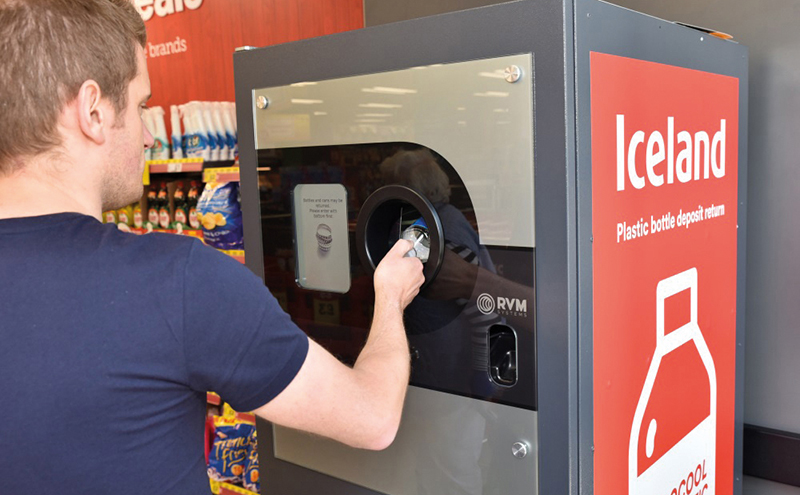 FROZEN food specialist Iceland has launched a deposit return pilot scheme in Scotland by installing a reverse vending machine in its Musselburgh store as part of a trial across four UK sites.
The new reverse vending machine (RVM), provided by East Kilbride based Excel Vending, accepts Iceland's plastic drinks bottles in pack formats up to three litres, and carrying an Iceland barcode.
Bottles are identified using a 360° infrared scanner which matches up SKUs using recognition software before repaying customers with a 10p voucher for each recycled bottle, to be redeemed in store.
Similar machines are currently used in Norway as part of the Scandinavian nation's deposit return scheme.
Iceland is trialling reverse vending for a six-month period. The trial kicked off in May when Iceland installed an RVM at its Fulham store. An Iceland store in Mold, North Wales and The Food Warehouse in Wolverhampton are also participating in the trial.
Iceland's in-store trial of RVM coincides with Zero Waste Scotland's ongoing investigation into design options for a deposit return scheme for drinks containers.
The Scottish Government announced its intention to introduce DRS last September, with the UK Government following suit last spring.
The frozen food giant is expected to share insights gained from its RVM trial with both the UK and Scottish governments as they continue to consult on deposit return.
Iceland Foods Group managing director Richard Walker said the trial represents further progress in the firm's commitment to tackling plastic pollution.

"While our initial trial in London has been a success we feel it is important to include insights from consumers elsewhere in the UK to get a better understanding of the challenges we might face," said Walker.
"At least one third of plastics, much of this relating to packaging, is single use and then discarded – plastic bottles are a prime example of this. Through our trials, we hope to understand how to make it easier for people to act in an environmentally conscious way while tackling the threat of the millions of plastic bottles that go unrecycled every day."
Scottish Government environment secretary Roseanna Cunningham praised Iceland for trialling deposit return at its Musselburgh store.
"The reverse vending machine will provide valuable evidence on how to help reduce single-use plastic waste and encourage customers to change their own behaviour as we look to end Scotland's throwaway culture," she said.
"I would urge all manufacturers and retailers to follow Iceland's example and consider what action they can take to reduce the use of single-use plastics.
"In the coming months, the Scottish Government will be consulting on a new deposit return scheme for drinks containers that will be one step to increase recycling rates right across Scotland."
Deposit return campaign Have You Got The Bottle also welcomed the move by Iceland. John Mayhew, director of APRS which runs the Have You Got The Bottle campaign said: "This move from Iceland is an important commitment to the process of designing the right deposit return system for Scotland.
"We are hopeful that other retailers will visit and see how the technology would work for them in advance of a likely 2019 start date for deposits in Scotland, and it should also help the public understand better how deposits will work."