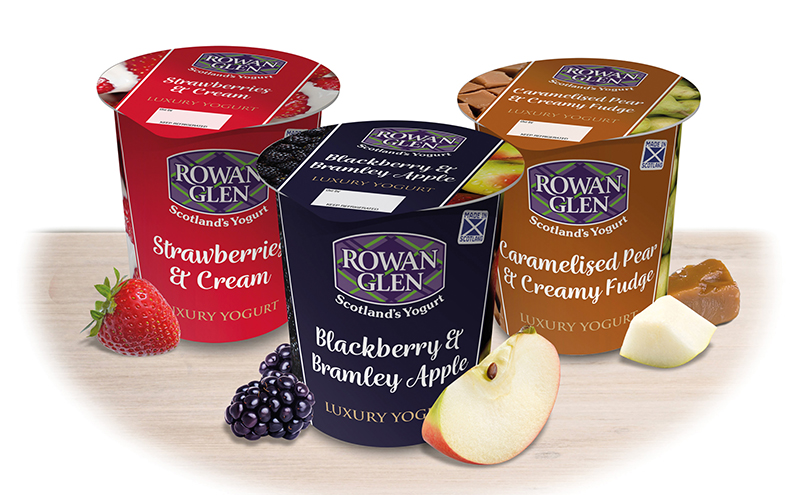 SCOTTISH dairy brand Rowan Glen has created a new range of yogurt with new flavours and eye-catching packaging.
The single serve yogurts come in three flavours – Blackberry & Bramley Apple, Strawberries & Cream, and Caramelised Pear & Creamy Fudge.
The range was developed after research that identified consumer demand for innovation and excitement in the category.
Senior commercial manager Danny Cairney said: "It's an exciting time for the Rowan Glen brand with the addition of this new yogurt range to our product portfolio.
"We spotted a clear gap in the market for a luxury Scottish yogurt, with a focus on premium quality, whether it is consumed at lunch, as a snack or after-dinner indulgence."
Cairney said the product boasts high fruit content folded through thick and creamy yogurt, using ingredients more commonly associated with traditional puddings and desserts.

"It is packaged in pots with a striking design proudly showcasing our Scottish credentials and our commitment to our farmer owners."
Other new products introduced by Rowan Glen recently include the Pots of Goodness range.
Cairney explained: "Recognising upward market trends for Greek yogurt, Rowan Glen invested in bringing to market one of the country's first ever high protein, low sugar Greek yogurt alternatives.
"In addition to the inherent nutritional value of dairy, this range meets the growing demand for foods with added health benefits."
He concluded: "Local milk and quality ingredients are the building blocks of our range, as the company continues to position itself as the champion of Scottish dairy, supported by a multi-media marketing campaign including strategic sponsorship such as our on-going sponsorships of the Kings pantomime in Edinburgh."