Larger formats and sugar-free are soaring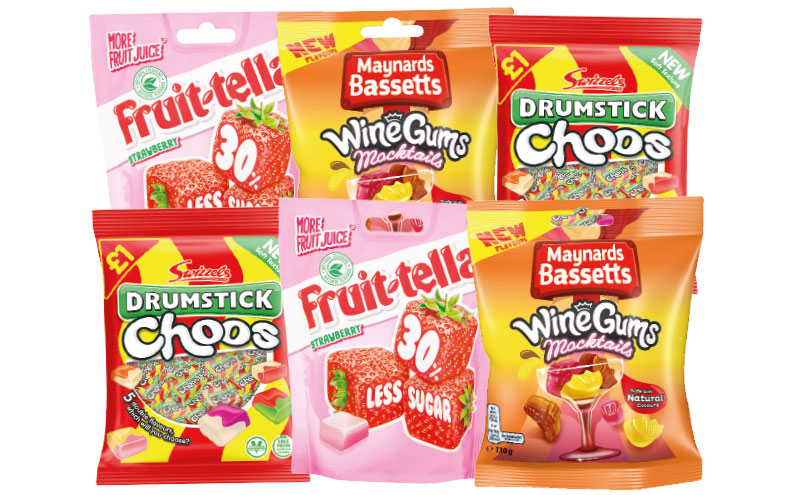 SUGAR hasn't had the easiest time in the media recently but, much like the soft drinks industry, producers have been engaged in reformulations and launching healthier alternatives for some time now.
Steps taken by the industry have allowed sugar confectionery to maintain its relevance to Scottish retailers – with manufacturers pursuing multiple avenues of growth.
Mark Walker, sales director at Swizzels highlighted how sugar confectionery has improved its fortunes over the last year.
"Sugar confectionery has been in high demand over the past 12 months, having grown by 3.9% compared to chocolate at 1.5%, and this growth is expected to continue," he said.
One area in particular where Swizzels has stepped-up its game is in the hanging bag format, which Walker said is now "hugely popular" and continuing to grow.
Consumers are now more health conscious, and are looking for alternative products. The government is also focusing heavily on sugar.
To meet this demand, Swizzels recently launched its Choos range, as Walker explained: "Choos are available in two variants and bring a unique offering to the market with a choice of five flavours per pack.
"Drumstick Choos provide five double flavour combinations including brand new Peaches and Cream and Strawberry and Banana, while Refreshers Choos offer five fizzy flavours with the unique sherbet centre, including Pineapple and Apple."
Walker added that the brand recognition enjoyed by both Drumstick and Refreshers help the hanging bag range stand out, while also tapping into current purchasing trends.
"Suitable for vegetarians and vegans, our Choos hanging bags containing individually wrapped chews are perfect for sharing, and with the big night in still a major occasion for sugar confectionery, Choos' range of flavours offer something for everyone when sharing with family and friends."
Mark Roberts, trade marketing manager at Perfetti Van Melle also heaped praise on sharing formats in the confectionery category, contrasting with the retreat of single packs.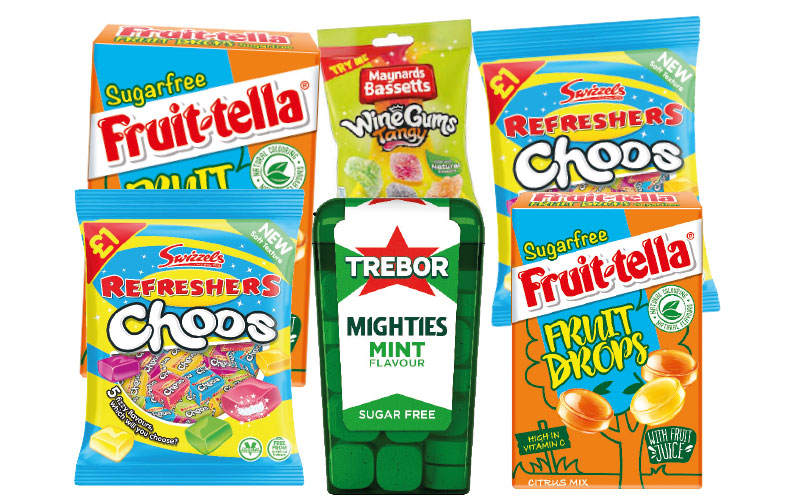 "The market has seen bags and boxes grow £9m in the last year, however singles lost £10m in that period," he said.
In keeping with this trend, Roberts suggested Perfetti Van Melle, has been driving growth by making the most of changes in consumer demand – particularly when it comes to sugar free.
"Numerous trends are changing the way we live, altering the shopper missions in store. Most notably consumers are now more health conscious, and are looking for alternative products. The government is also now focusing heavily on sugar," he said
"As a result, better for you (BFY) is growing 20% in the total confectionery market.

"Research is already showing that 73% of sales in BFY are incremental to the category; implying people who previously may not have considered confectionery are entering the category,"
Roberts reckons reduced and sugar free confectionery is key to the category's success in impulse, and he offered an optimistic assessment of PVM's performance in this area.
"We are pleased with the performance of our sugar reduced and sugar free ranges this year, and as a total BFY SKUs have helped to deliver an incremental £3m to the category," he said.
"The key is giving shoppers choice. Look at the best performers and what adds to your core range.
"For instance Fruittella, with its beloved classic range, but with its newly added sugar free and sugar reduced ranges, each appeal to different consumers and demographics, which makes the entire range an option for all stores."
Displaying the sugar free and reduced products amongst the classic sugar, clearly signposted helps consumers make a conscious choice.
Sugar free may be on the rise but its fortunes can always improve. To extract everything possible from healthier confectionery SKUs, Roberts said retailers need to keep in mind just how important impulse is to the category's success and signpost their range accordingly.
"Signposting is key for confectionery. As a category 80% of sales are purely based on impulse.
"Displaying the range of sugar free and sugar reduced products amongst the classic sugar, clearly signposted helps consumers make a conscious choice when selecting their purchase," he said.
The importance of effective merchandising in confectionery was also highlighted by Susan Nash, trade communications manager at Mondelez International, the firm behind Maynards Bassetts Wine Gums.
Nash advised retailers to focus on the bestselling lines, placing top sellers at the consumer's central point of vision, while also stocking a range that covers a range of customer needs from enjoying alone to sharing as part of a big night in.
"Don't forget the basics," said Nash, "keep fully stocked and keep the display tidy.
"Group products with similar attributes adjacent to each other (e.g. 'containing nuts'). Within product formats and segments, and without moving best sellers away from the bestselling locations, group brands together."