SHS Drinks extends RTD range with launch of WKD Mango Crush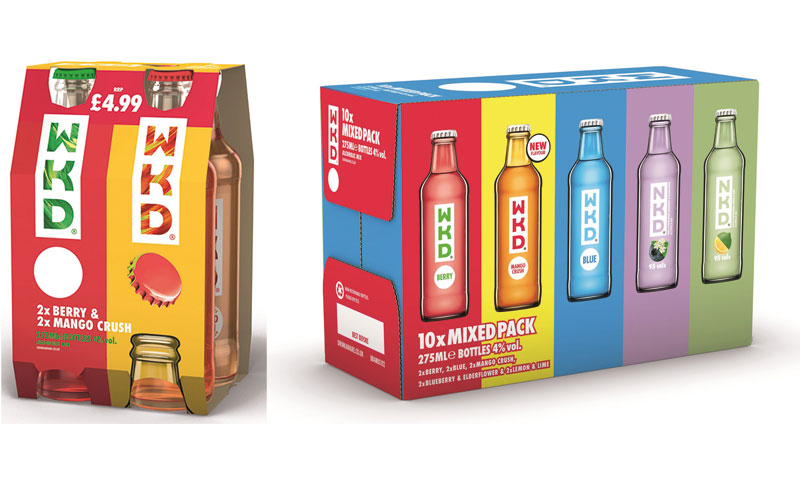 READY to drink brand WKD is bringing some more fruit flavour to the category with the launch of a new mango flavoured variant.
The new WKD Mango Crush is being launched with a range of trade deals aimed at incetivising distribution and parent firm SHS Drinks will also be engaged in a programme of telesales drives, a nationwide consumer sampling campaign and student-specific promotional support including a social media campaign.
Available in 275ml glass bottles, the 4% ABV RTD is available in two multipack formats, a dual-flavour price-marked four-pack and a multi-flavour variety 10 pack.
The four-pack contains 2x275ml bottles of WKD Mango Crush and 2x275ml bottles of WKD Berry at an RRP of £4.99, while the new variety 10-pack includes two bottles each of WKD Blue, WKD Berry, NKD Lemon & Lime and NKD Elderflower.
SHS Drinks head of brand marketing Amanda Grabham said: "We're predicting that WKD Mango Cruch will be a huge success for independents.

"The tropical flavour joins our permanent range and with significant launch support, it's set to make a big impact in 2018.
"Mango is a highly relvant flavour amongst our target audience and our fruity new addition is bringing a tropical new angle to the WKD range.
"WKD Mango Crush was strongly endorsed by consumers in research and we believe that the variant has significant volume potential and will drive incremental sales for stockists."