A new line from Paterson's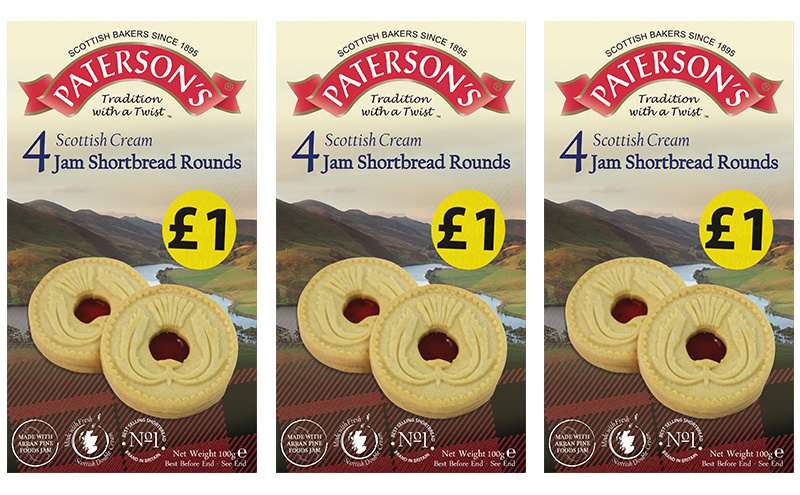 SHORTBREAD brand, Paterson's, has introduced a new variety to its range – Scottish Cream Jam Shortbread Rounds.
Launching this month, this latest addition comes in a 100g, £1 price-marked pack.
Commercial director Allan Miller said: "At Paterson's, we are all about offering our consumers delicious, quality products that bring family and friends together for all occasions throughout the year.
"Consumers are increasingly looking for indulgence and provenance in their biscuit choice, and our Scottish Cream Jam Shortbread Rounds offer exactly that.
"The shortbread still offers the same unique Paterson's taste and melt in the mouth texture, but with the added twist of a sweet strawberry jam from the Isle of Arran."
Miller added that the new product is made using what he reckons is the nation's "favourite authentic and treasured" shortbread recipe, baked using local cream, sourced from Edinburgh's Pentland Hills.
He said: "Each 25g round is filled with 20% delicious strawberry jam from the idyllic Isle of Arran to create a uniquely Scottish treat.
"The launch is in response to consumer demand for premium everyday biscuits with one in three consumers seeking out biscuits with fillings and toppings."
• Paterson Arran is a privately owned Scottish company operating from the Royal Burgh Bakery in Livingston, and the Old Mill, Lamlash, Isle of Arran.
In 2017 it won two environmental awards including one for environmental sustainability at the 2017 Scotland Food & Drink Excellence Awards.