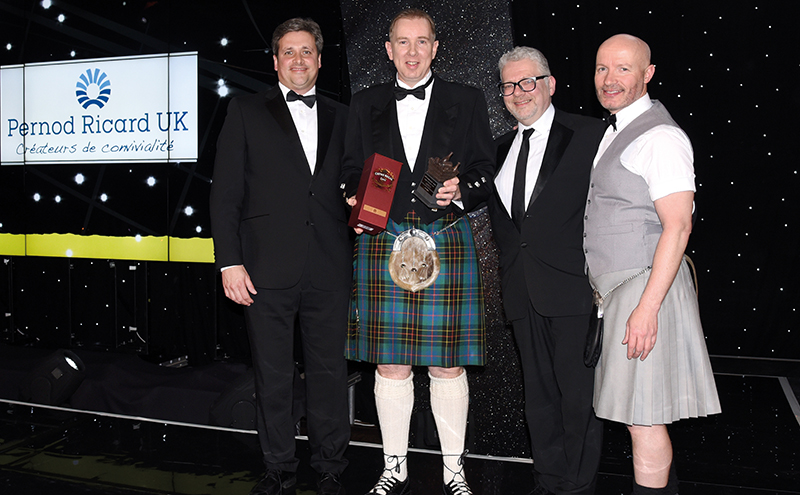 FOR the final award of the evening Craig Hill was joined on stage by a familiar face to many, former Scottish Grocer editor Patrick Duffy. No stranger to picking the brain of 2018's Industry Achievement Award winner during his time at the helm of Scottish Grocer, Patrick revealed that this year's most honoured guest was Scotmid chief executive John Brodie, with attendees rising to their feet to applaud the industry stalwart.
Born in Edinburgh and raised in Kirkcaldy, John Brodie trained and qualified as a Chartered Accountant, working eight years in practice before he was headhunted by Scotmid, joining as a financial controller in 1993.
Five years later he was promoted to head of finance, then depute chief executive and eventually acting CEO.
John went on to become the youngest chief executive in the company's history, impressing the board of directors with his integrity and business acumen.
Coming up on 13 years in that role, John had something of a baptism of fire when he had to preside over Scotmid's largest ever loss and create a plan to rebuild the business.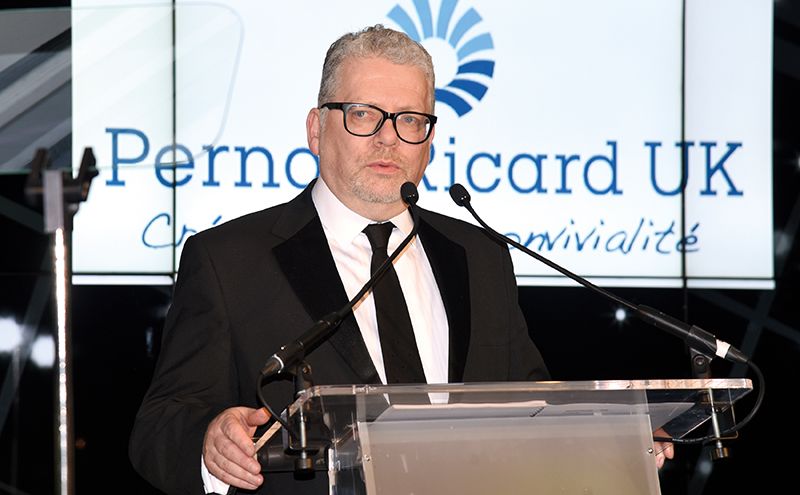 His aim was to get back to basics, invest for the long term and establish a pipeline of new business opportunities. John has been responsible for changing the corporate culture at Scotmid, instigating a philosophy of continuous improvement. As CEO, John made it okay to try new things, accepting that it wasn't possible to get everything right first time.
Fortunately, his team got things right more often than not.
Nearly 13 years later, the proof of the pudding can be seen in Scotmid's strong results as it continues to hold position amid tough trading conditions for retailers.
With 192 food stores, and against a backdrop of continued uncertainty, John's job today is no cakewalk, but through his leadership Scotmid has continued to re-invest and innovate, simplifying its own practices to become more efficient, and enhancing its offer for customers.
During his time at the top, John Brodie has taken Scotmid to the next level, overseeing significant acquisitions, establishing the brand south of the border and recording the highest annual profits in the co-operative's history.
But, as John knows, the chief executive job is more than just a numbers game.
We're a huge employer and that brings enormous responsibility, but it also provides great opportunities right on people's doorsteps and we do put a lot back into communities.
Under his leadership, Scotmid has launched its next generation of stores led by fresh food and food to go. The co-operative boasts sector-leading partnerships with local producers and is committed to energy efficiency.
John has also been instrumental in ensuring the business continues its support of a wide variety of Scottish charities.
Through this work Scotmid continues to shine, a beacon to the industry, helping to raise and maintain standards across the convenience channel.
It's not just Scottish Grocer that's chosen to recognise John's talent in 2018, he's had a busy couple of months, becoming the chair of the Scottish Retail Consortium and picking up some royal honours to boot in the shape of an MBE for services to business and the voluntary sector.
Accepting his award, John said: "When I joined Scotmid I thought I was probably going to join for a couple of years, 25 years later and I'm still here. I've seen a lot of change, but nothing compared to what has happened over the nearly 160 years Scotmid has been in existence as an organisation.
"The industry is facing challenging times, but we are resilient. We're a huge employer in the sector and that brings enormous responsibility, but it also provides great opportunities right on people's doorsteps and we do put a lot back into communities.
"I'd like to thank a few people. Firstly Scottish Grocer and Pernod Ricard for awarding me with this honour this evening, all of those at Scotmid past and present who have helped me in my career and made it the great organisation and institution that it is, and of course my own family who have given me tremendous support over the years and certainly keep me well grounded.
"Thank you very much."