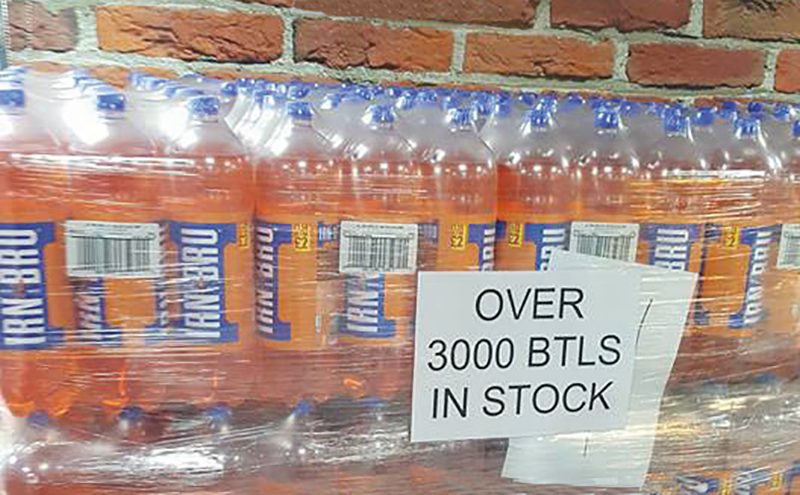 SCOTLAND'S other national drink is changing as AG Barr reduces the sugar content of Irn-Bru ahead of the new levy on sugary drinks coming into force this April.
The new bru has less than half the sugar of the original, down from 10.3g to 4.7g per 100ml, but AG Barr has claimed nine out of ten regular Irn-Bru drinkers think the new liquid has a good or excellent taste.
What the change will mean for AG Barr's revenues is yet to be seen but one retailer, Imran Ali of Bourtreehill Supermarket in Irvine, has already made the most of the change.
After picking up over 3,000 bottles of original recipe Irn-Bru, Ali sent out a post from his store's Facebook page that snowballed into something of a media spectacle.
"Just yesterday we had a visit from the Wall Street Journal," said Ali.
"They didn't really know anything about Irn-Bru so I had to create a picture for them of how big Irn-Bru is here."

Ali said the change has been great for his store, as he's seen it promoted on STV News and in national newspapers.
The change may have gone down well in Irvine, but in East Lothian, Ferhan Ashiq of Levenhall Newsagents in Prestonpans has concerns about future sales as he reckons Irn-Bru could go the way of Lucozade, which also reduced its sugar content.
"Look at what happened with Lucozade, I was at six or seven cases a week, now I'm down to one or two cases a week.
"At one point during the change they realised the 95p PMPs were the full sugar ones and you would see people looking in the chiller for them," he said.
• Irn-Bru returns to TV screens this month as part of a £2m marketing investment in the brand.