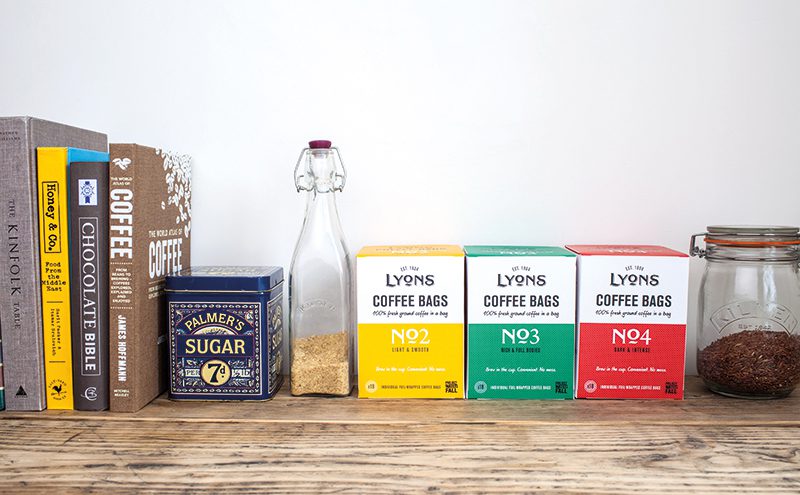 SINGLE serve is a growing trend among coffee consumers, according to Lyons Coffee and it says sales of its coffee bags had grown 45% in the year to November 2017 compared to the same period a year earlier.
And, quoting Nielsen data, it says roast and ground coffee sales grew by 5.2% in value last year.
Brand manager Nicole Hartnell said: "Coffee bags are one of the latest innovations in the coffee market, revolutionising the way consumers enjoy their coffee.
"Lyons Coffee Bags are made with 100% freshly ground coffee, sealed into individually-wrapped foil bags.
"To make, simply add freshly boiled water and brew for three-four minutes to taste."
Hartnell said that many convenience stores are yet to capitalise on the success of coffee bags and, instead, are sticking to offering a selection of instant coffees.
She added: "The growth of coffee culture throughout all regions of the UK would suggest that retailers should look at expanding their coffee range to mirror the current consumer habits and trends."
Saying that the demand for traditional instant coffee continues to decline, Hartnell advises retailers to stock a variety of products to reflect tastes and lifestyles.
She continued: "Young adults have grown up drinking quality coffee on the high street, developing a taste for fresh coffee and becoming open to trying new things.
"A recent survey of 18 to 34 year olds showed that only 10% had purchased instant coffee, showing the demand for fresh coffee at home, particularly within this age group."
• The hot chocolate and malted drinks retail market in the UK has an annual sales value of £116m, says Mars Chocolate Drinks and Treats.
Low-calorie hot chocolate is becoming increasingly popular and accounts for almost half of instant hot chocolate.
Referring to IRI Infoscan data, Mars says hot chocolate is the overall category leader with a share of 75% and annual sales value of £87m and values malted drinks at £28m.
General manager, Michelle Frost said: "Combining strong brands and innovative products and offering flexibility for both retailers and consumers has seen our range continue to grow."
Frost added that instant low-calorie hot chocolate is becoming increasingly popular and currently accounts for almost half of the instant hot chocolate market.
She concluded: "To maximise sales, hot chocolate is best displayed near tea and coffee.
"Retailers should ensure that they stock a wide range of products from the core hot chocolate segments for most impact – instant hot chocolate, added milk, malted and cocoa.
"Retailers should merchandise a range of Galaxy and Maltesers products together.
"Traditionalists will love Galaxy Thick Hot Chocolate, while more adventurous consumers will get to try something different with Galaxy Mocha Latte."