Halloween does the trick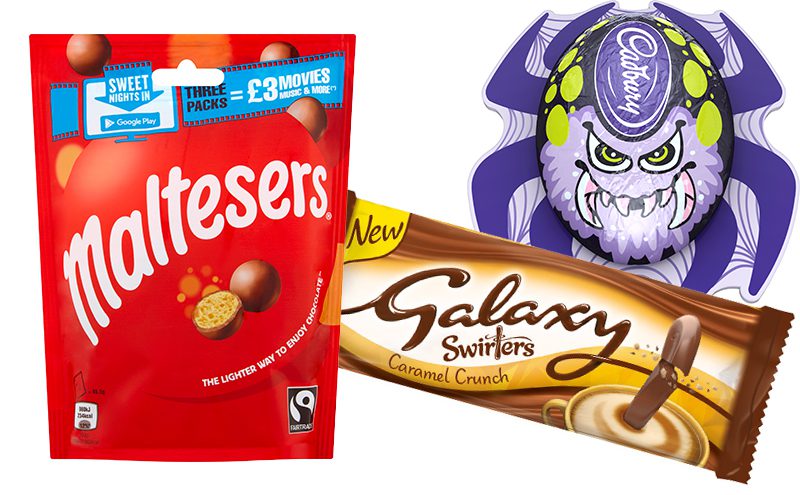 IT may have started off as a Scottish and Irish celebration, but when it comes to Halloween it's arguably retailers in the US who have really jumped on the seasonal bandwagon – though it appears some in the UK are on their way to catching up with their American counterparts.
A number of confectionery firms have highlighted the growth enjoyed by the category over the last few years as evidence that retailers who do not get into the spooky spirit of things could be missing out, and they've made some suggestions on how to turn the season into a real thriller at the tills.
Declan Duggan, senior brand manager for Halloween at Mondelez International, highlighted the exponential growth that the confectionery category has enjoyed as a result of the rise of Halloween celebrations in the UK.
"Total Halloween is now worth a spine-tingling £470m, double the size it was a decade ago, and as confectionery is the largest category purchased during the occasion, it provides a huge opportunity for retailers to capitalise on consumer demand," he said.
"Mondelez International is a key player at Halloween with 25% share and has the UK's number one Halloween self-eat and number three novelty within its range.
"Its treatsize range is worth over £5m at Halloween. Its 2016 NPD, Ghooost Egg, help drive £600,000 of impulse sales to the category during the season and this year it is launching a new candy NPD that is ideal for the trick or treat occasion."
Retailers should look to get shoppers excited about the season with impactful point of sale.
Halloween may be about disguises, but Duggan suggested customers still wish to see brands they recognise when shopping for confectionery at this time of year, and he reckons retailers should ensure they stock up on familiar names.
"During the season customers want to buy trusted products from brands they love. Retailers should therefore look to get shoppers excited about the season with impactful POS, helping them to remind customers the big day is just around the corner and encouraging impulse purchases," he said.
To help make the most of the occasion, Duggan also provided advice for retailers which the firm reckons should leave them feeling like they've had a treat when the decorations come down.
"With Halloween being a shorter season, Mondelez International recommends a really tight range, clear segmentation and signposting on shelf will help boost sales.
"Spook shoppers in early October by stocking self-eat novelties. Stock a targeted range of best-sellers and innovation to avoid over-cramming the fixture.
"Spook your customers with fangtastic counter display.
"On the day, or a few days before, why not create some extra theatre and get your staff to dress-up," he said.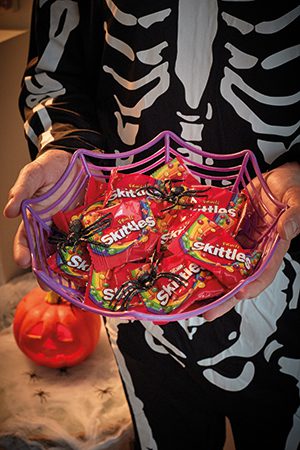 Bep Dhaliwal, trade communications manager – Mars Chocolate UK, also pointed to the exceptional growth Halloween has undergone in recent years, and the knock-on effect this has had on confectionery sales for convenience stores.
"Halloween is rapidly growing in the UK, with overall consumer spending on the occasion continually rising since 2009, up 263% between 2009 and 2013 alone.
"This trend shows no sign of slowing down – confectionery was the number one purchased category at Halloween last year," she said.
The opportunity for retailers in the run-up to Halloween is clear according to Dhaliwal, and a strong focus on confectionery should help retailers make the most of the spooky season.
"Confectionery is perfect for consumers regardless of their plans, whether that is trick or treating, preparing for trick or treaters, or hosting a Halloween party, so retailers should be sure to stock up on confectionery well in advance of the day in order to maximise sales," she said.
When it comes to format, Dhaliwal suggested that in the chocolate category, sharing packs, which perform well throughout the year, play an even more important role at Halloween.
To make the most of this, Dhaliwal suggested retailers get going early, rather than wait until October to pick up stock.
"Seasonal occasions are a crucial time for retailers to maximise sales in-store, and Halloween is no different.
"From late September people will be thinking about how to celebrate Halloween, so retailers should showcase the sharing packs and funsize packs they have available from then.
"Combining this with an in-store Halloween display is a great way to boost sales, and add excitement around the season," she said.
Dan Newell, marketing manager at Wrigley, echoed Duggan and Dhaliwal, proclaiming that Halloween provides retailers with a "fantastic opportunity" to drive their confectionery sales as more households shop the category thanks to the occasion.
Seasonal occasions are a crucial time for retailers to maximise sales in-store and Halloween is no different.
"The category becomes even more relevant to shoppers during this holiday season with 2.5 million more households buying into the category vs previous six weeks."
With this in mind, Newell reckons it's key that retailers get themselves sorted for Halloween stock to meet the increase in demand.
"It's so important that retailers get stocked up for Halloween. Skittles Fruits Funsize was the number one contributor to total confectionery funsize growth during Halloween 2016 and we are expecting it to be even bigger this year.
"We are excited to have expanded our range this year and will be giving retailers everything they need to enhance in store theatre," he said.
[box style="0″]
Cast a spell with merchandising magic
• Visibility is key in such an impulsive category so popular confectionery items should be located just below eye level, at 'buy level', to take advantage of incremental sales.
• Availability is crucial – remember to re-stock each morning and prior to peak traffic times. A fully stocked display will help maximise your profit potential and guarantee repeat visits from customers.
• Ensure shoppers are aware of the choice and range on offer by keeping a clear and tidy confectionery display and merchandising by format and sub-category– e.g. single-serve fruit confectionery, share bag fruit confectionery, single-serve chocolate confectionery, chocolate blocks, sharing bags chocolate etc.
• Rotate stock regularly so that older stock is sold through first.
• Champion new products in store in order to raise sales and capitalise on early consumer demand.
• Use eye-catching POS materials to draw attention to your confectionery display encouraging customers to buy on impulse. Make the most of your display and interrupt the shopper with eye-catching confectionery secondary displays, clearly labelled with price.
– Jon Eatly, Wrigley customer excellence director.
[/box]