PMI roadshow offering swap service for retailers
Independent and convenience retailers stuck with excess Philip Morris tobacco stock that is not compliant with new regulations on plain packaging are being given the opportunity to swap it for selected compliant versions, as part of the firm's UK roadshow.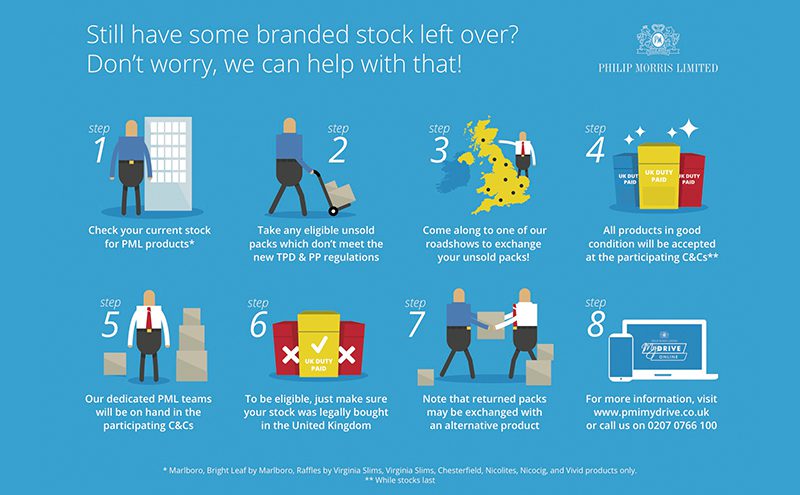 Philip Morris will be offering a stock swap on non-compliant packs of Marlboro, Bright Lead by Marlboro, Raffles by Virginia Slims, Virginia Slims, Chesterfield, Nicolites, Nicocig and Vivid at its roadshow, which arrives in Scotland this month.
The tobacco giant will be touring Scotland from 3 July to 1 August, giving Bestway, Booker and Batleys customers the opportunity to exchange products at participating cash & carries.
To be eligible for exchange, Philip Morris products must have been legally bought in the UK, unopened and in a good condition, and exchanges must be carried out by a member of the Philip Morris team.
Retailers can find their nearest participating cash & carry by visiting Philip Morris' MyDriveOnline website or by calling the firm's UK call centre.
Since 20 May, retailers in the UK have been obliged to only sell tobacco products that are in full compliance with new Tobacco Products Directive (TPD2) regulations.
The regulations limit pack sizes to a minimum of 20 cigarettes per pack and a minimum weight of 30g for roll-your-own.

Retailers must also only sell tobacco standardised packs, dark brown in colour with brand and SKU name in grey standardised text and featuring health warnings on all four sides.
Non-compliant products include any pack featuring logos and colours on pack, description of the tar, nicotine and carbon monoxide content, price-marking and limited editions.
The new regulations also affect the sale of e-cigarettes. Retailers may only sell e-cigarette products with packaging featuring health warnings.
Matthew Tisdall, head of sales at Phillip Morris, commented: "In what is a rather nervous time for many retailers, we are hoping to make the TPD and plain packaging transition as smooth as possible with our cash & carry roadshow.
"The ability to exchange noncompliant product will mean fewer out-of-stock issues and missed sales.
"As well as utilising our roadshow to swap non-compliant product, retailers can also maximise tobacco sales opportunities in store by stocking the best-selling brands that their local customers are looking for.
"It is also key to ensure that staff are fully trained on brands from every segment; knowledge of product features will be the difference between making the sale and not."