Championing fresh produce, food to go and its partnerships with local butchers and bakers the fifth store for Eros Retail, Greens of Tillicoultry has just opened its doors.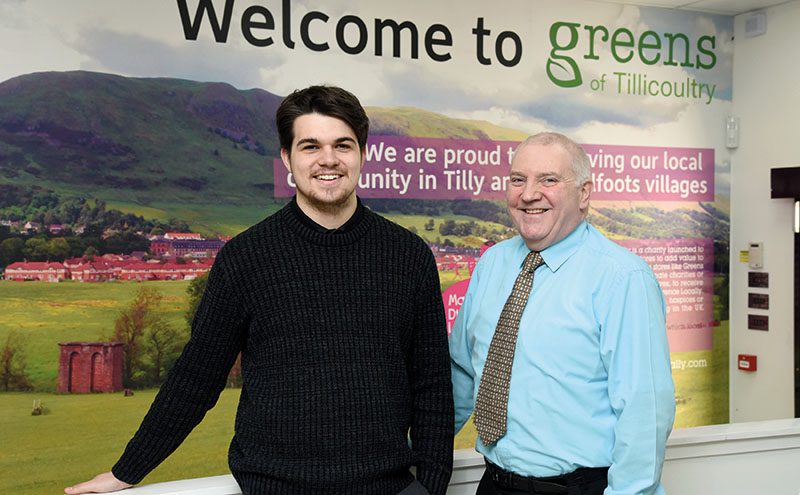 The village of Tillicoultry in Clackmannanshire lies nine miles to the east of Stirling at the foot of the massive Ochil hills, making a striking backdrop to the latest venture from Eros Retail Ltd.
Occupying the site of the former Ochil Furniture Store in the village's Hill Street, Greens of Tillicoultry opened last month.
Along with the name, the new store has employed many of the same designs and strategies as the company's flagship site, Greens of Markinch. But there are also numerous ways in which it sets itself apart.
With the nearest supermarket a 10 minute drive away, the team saw scope to offer fresh produce in a way that hadn't been done before at the company's other sites in Markinch, Leven, Alloa and Kirkcaldy.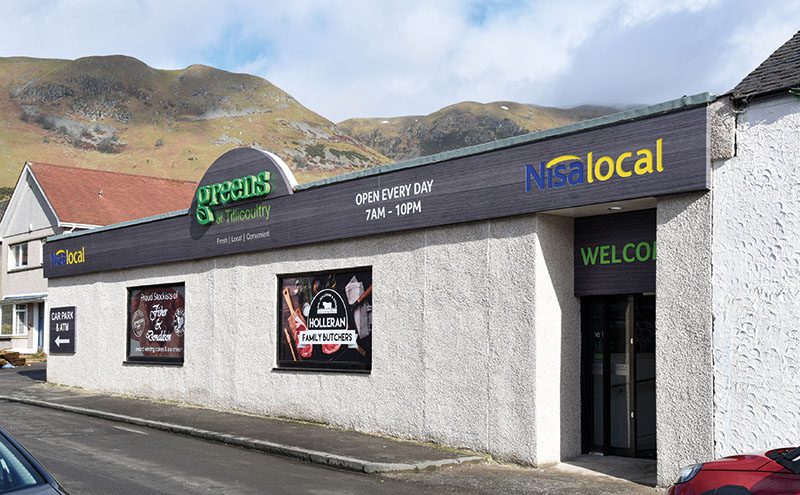 "We're really trying to push loose fruit and veg," said business development manager Dougie Anderson. "We developed our own chalkboard POS with the Greens branding on it to give a rustic market feel that we quite like.
"It's also our first time doing a fruit and veg island in one of our stores. The fruit and veg all comes from Nisa, but we had the island custom made and it looks really good. I think the offering will do much better here than it would in other locations."
And partnerships with local suppliers play a prominent role in the business.
At the end of the chilled food aisle is the counter for Holleran Family Butchers, a company that had its own site in Tillicoulrty for many years.
"Having an in-store butcher is a first for us," said Dougie. "Everyone in the area knows the brand and it was very popular anyway, so to bring them in here should be very good for us.

"We take commission off them and that works in both our favours. We're trying to push their products because we want the commission back, while they don't have to pay for renting a premises of their own.
"We're not going to be selling any fresh meat from Nisa because we want to make the most of having a butcher in store, but that should also give us a bit more room to play with in the chiller to bring in other products from the Nisa range. There is a lot to choose from."
As well as offering a wide variety of freshly prepared cuts of meat and ready meals, Holleran, by working with Greens, can also sell family meal packs.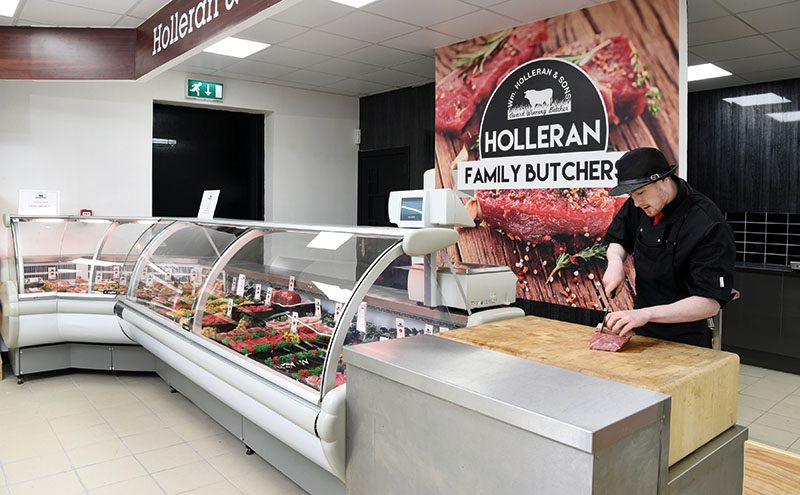 For instance, a bolognese pack will include a packet of uncooked spaghetti, jar of pasta sauce and 1lb of fresh mince, all wrapped up together for convenience and sold at a £4 price point.
"It's quite good, because it gives families a quick and easy meal idea at a good price, but they also have the reassurance of knowing it's top quality fresh meat from a good butcher," said Dougie.
Of perhaps equal importance to Holleran is the store's partnership with Fisher & Donaldson bakers of Cupar, which was previously established at other Eros Retail sites.
"The bakery counter worked so well in Markinch that we took it into Leven in December," said Dougie. "We put a post on Facebook about it that reached around 20,000 people. Folk just went nuts for it.
"In Markinch the fudge donut is in our top 10 products. That's in the whole store, including rolls, newspapers, lottery. So you can imagine how good it is."
As well as donuts, cakes, pies and pastries, Fisher & Donaldson supplies Greens of Tillicoultry's sandwiches and fresh-baked bread.
"In Markinch we used to bake our own bread in store, but since we started working with Fisher & Donaldson, we've taken a step back," said Dougie.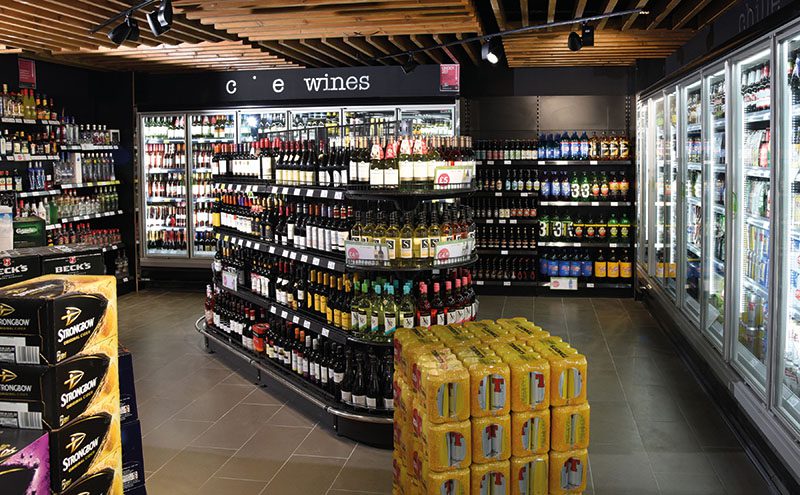 "We're still going to do French baguettes because they do well, but we're not going to bake other breads, because they're the experts and their stuff is sale or return. It makes more sense to work with them.
"We've also stopped making our sandwiches in store. We let them supply, for the same reasons."
Both partnerships will come together at the store's food-to-go counter.
"We'll have sandwiches from Fisher & Donaldson, baguettes, salad boxes and hot pies. But we're also going to buy ready meals from Holleran, bring them down to the hot food station, heat them up and sell them at lunch time.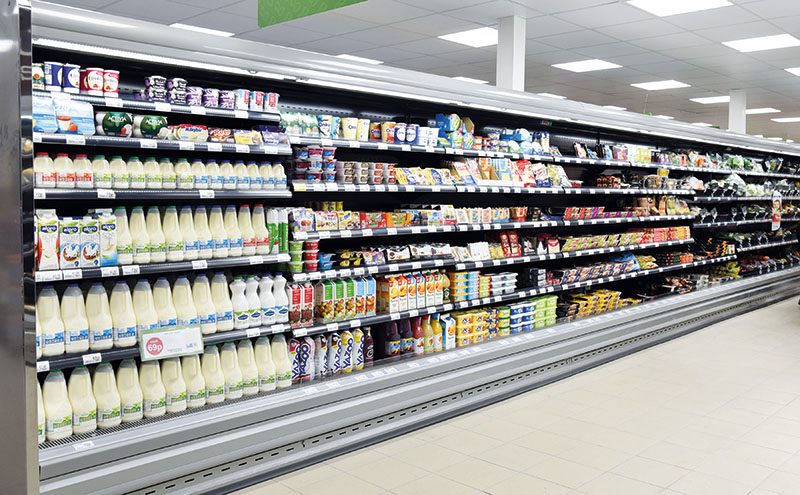 "And because we've got loose veg we can just grab some potatoes off the shelf and bake them. We really don't need to do much to have a pretty extensive food-to-go offering, because so much is easily available to us."
Following a very successful open day on 4 March, the store is gradually attracting more and more customers, with all signs looking positive.
"One interesting thing is that usually, in our other stores, cigarette sales are really high, but here they haven't really sold at all," said Dougie. "Despite that, and the fact we don't have lottery or PayPoint, our sales are close to on a par with Markinch and Leven. So I think the product mix is the best of all our stores."