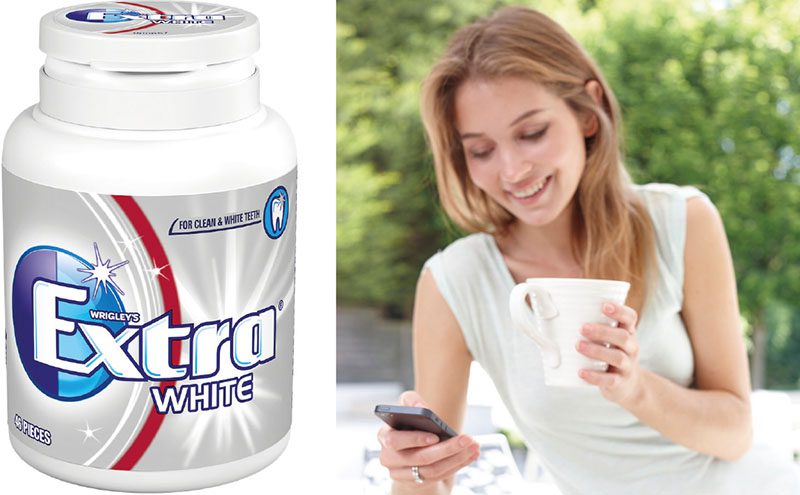 WITH an increasing number of consumers looking for healthy additions to their daily oral care routine, sugar-free gum is currently driving growth within the gum category, according to Wrigley.
Quoting figures from a Nielsen survey, Wrigley values the total gum category at £268m and its own portfolio at £253m. Within that, it says, Extra Sugar Free contributes £208m and is continuing to grow in volume.
It has recently redesigned the packaging for its Extra White with the addition of a red stripe to make it more easily identifiable.
Marketing director Julio Guijarro said: "The new packaging has been launched to challenge static sales since April 2015 when the whole Extra portfolio was relaunched."
Guijarro also said that following the performance of Extra 46 and 60 pellet bottles across some of its best-selling flavours, including Peppermint, Spearmint and Extra White Bubblemint, Wrigley has added Extra Cool Breeze to the bottle range.
And in a bid to grow the category further, Wrigley has launched a £2 price-marked 46 pellet bottle for its Peppermint and Spearmint flavours.
Guijarro said: "The bottle format continues to tap into the growing demand for keeping teeth clean and breath fresh after snacking on the go.
"For retailers, the launch of the new PMP bottle will help improve rate of sale, as purchase intent in the gum category has been shown to significantly decline when priced above £2."
Extra Peppermint and Spearmint flavours have also been put into PMPs at £1 for a 21 piece hanging bag.