Ron McNaughton, head of food crime and incidents at Food Standards Scotland,
 

explains how the organisation's food crime hotline means Scotland's retailers can help in the fight against food fraud.

FOR Scotland's retail, catering and hospitality sectors, food fraud is becoming an increasing risk. After the 2013 horse meat scandal, which saw traces of horse meat make its way into the supply chain, consumers are more concerned than ever about the authenticity of the food and drink they buy and consume. There's a growing need for suppliers to build trust and confidence, ensuring consumers are being provided with the quality of food and drink that they expect.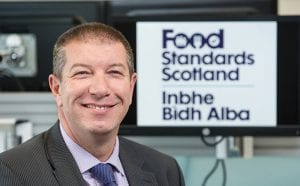 Food Standards Scotland (FSS) has teamed up with Crimestoppers to launch the free Scottish Food Crime Hotline, giving consumers and the industry a dedicated way to anonymously report any concerns about food fraud. The Hotline number – 0800 028 7926 – operates 24 hours a day, seven days a week. There is also an option to report concerns through a non-traceable online form, at https://forms.theiline.co.uk/ScottishFoodCrimeHotline
Everyone involved in Scotland's food and drink industry, from suppliers and retailers to caterers and restaurateurs, can take responsibility in tackling the problem and ensure that any suspicion of food crime is reported. Information sharing is the key to reducing and potentially eliminating this type of offence.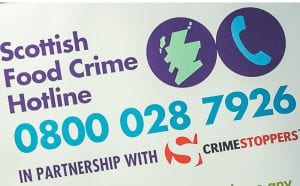 Food crime is defined as any deliberate manipulation, substitution, mislabelling or instance of fraud in relation to food, which costs the UK an estimated £1.2bn annually.
The information received will be invaluable to FSS's Scottish Food Crime and Incidents Unit (SFCIU) in targeting those involved in criminal activities.
Working together with local authorities, industry, the police and other enforcement agencies the SFCIU can use the intelligence to identify and where possible, prosecute those who are defrauding and potentially endangering Scottish consumers.
Since it was launched in April 2015, FSS has delivered independent, evidence-based information as it aims to protect the interests of consumers, putting the public at the heart of every initiative.
The recently published FSS strategy for the next five years outlines food authenticity as one of six key strategic outcomes.
We believe that by raising awareness of food crime and providing a trusted point of contact, anyone in the food and drink industry will be encouraged to report any suspicions in confidence, using the free hotline or online form.
It's important that we all work together to ensure that Scotland's food and drink industry continues to prosper. Any suspicion or concern regarding the authenticity of food and drink produce should be communicated to us. With your help we can work to eliminate fraudulent suppliers and operators from the Scottish food and drink industry.