New Chups lines add £1.7m to sugar confectionery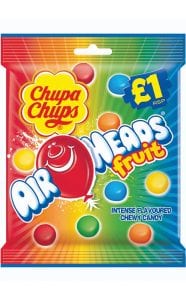 CONFECTIONERY brand Chupa Chups has put its Airheads Fruit into a £1 PMP.
The sharing bag contains sweets in apple, blueberry, cherry, lime and orange favours.
UK trade marketing manager Mark Roberts said: "Since its launch in the UK last summer, Airheads Fruit has been moving from strength to strength.
"With a high repeat purchase rate, the brand has grown by 21.7% over the past 12 months."
Roberts said that the bagged sweets market is currently worth £611m and growing by 2.3% year on year.
"Last year 63% of retailers claimed they would stock more PMPs this year, and 76% said they would be more likely to stock products that displayed the price on pack."
Roberts said adding new lines to complement Chupa Chups lollipops had added £1.7m to sugar confectionery sales.