Price promotional pressure will remain but milk firms are targeting meal deals and snacks with milk drinks designed to appeal to on-the-go consumers.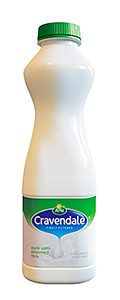 IT isn't going to be easy for the milk business to achieve overall increases in sales values because prices on mainstream milk, such as semi-skimmed pasteurised milk, are likely to remain very competitive in supermarkets, discounters and other outlets.
That's one reason why market researcher Key Note reckons there could be changes at milk manufacturers intended to ensure those businesses are sustainable and efficient.
But there will be opportunities for product development beyond the mainstream lines, it reckons.
In the 2013 Key Note Market Update on milk and dairy products it noted a rise in the number of lunchbox-friendly milks packs that have been launched.
It said milk packs and milk drinks are being introduced that target on-the-go and packed-lunch occasions. Some are designed to replace meals while others are designed to be a snack or refreshing beverage that form part of a meal.
Filtered milk was one of the sub-categories shown to be doing well in the Key Note Market Update and at Britain's biggest filtered milk brand, Cravendale, the team says new packs have played a part in its success in 2013 and more are planned.
The milk is filtered using a ceramic filtration system, which removes more of the bacteria that turns milk sour. That means, says the brand owner, that Cravendale milk is purer that standard milk. And it stays fresh for longer – seven days once opened and 21 days unopened, over twice as long as standard fresh milk.
Sophie Macaulay, brand manager at Cravendale, said: "It's encouraging to see the milk category return to positive growth over the past 12 months. As a premium brand we continue to work hard to offer value to shoppers and have exciting plans in place to build on this for 2014.
"Following the launch of our 500ml format last year, which took Cravendale into a different market, we will be expanding our offering with the launch of further new formats in 2014 as we recognise differing customer needs."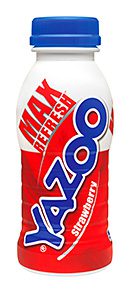 Flavour fever
Yazoo brand owner FrieslandCampina argues flavoured milk is versatile and can appeal to consumers at a number of points during the day, including breakfast, snack time and lunch.
Flavoured milk is growing at a faster rate than the total soft drinks market, it says, with an 11.1% increase in sales compared to 2.4% spend on carbonated drinks and colas and a decrease of 4.4% in spending on fruit juice.
Quoting HIM research, FrieslandCampina says one in 10 shoppers visiting a convenience store is looking for an on-the-go product. It notes also that on-the-go flavoured milk has shown growth of 16% in the year up to July 2013, according to Kantar.
FrieslandCampina launched a 250ml version of its strawberry and chocolate flavour Yazoo drinks in Tesco Express stores last year. It said such products can be used to target on-the-go consumers looking for drinks at lunchtime.
Retailers targeting younger consumers, says the company, should realise that 39% of 19-22 year-olds buy flavoured milk products.
Positioning is key, says the firm, and retailers would do well to be aware that flavoured milk is an impulse purchase for the convenience sector, and should be sited at the front of the store rather than further back in the diary chiller.
The company also says that 35% of shoppers said they would leave a store if what they wanted wasn't on the shelf. To maximise sales, it says that retailers should know their customer base and stock up on the favourites to draw shoppers to the on-the-go drinks fixture.
Flavour is the second most important criteria in the decision making process for flavoured milks. Ensure you are stocking the UK's favourite flavours strawberry and chocolate, the firm says.