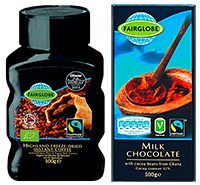 THE Fairtrade scheme is, essentially, an accreditation system. To carry the Fairtrade mark products must meet a series of standards through their production and trading chains.
Among the most important are that deals ensure producers get a guaranteed Fairtrade minimum price to cover their costs and that they provide the additional Fairtrade premium for farmers to invest in projects to benefit their communities and businesses. The arrangements are also required to feature clear trading criteria and set up mutually beneficial long-term relationships.
It means that Fairtrade products can be available in many different parts of the retail market. They include specialist products on foodie websites, major brands in c-stores throughout the land, own-label products in supermarkets and discounters, and more.
Discount supermarket Lidl, for example, has its own Fairglobe range of products which carry the Fairtrade mark.
Alasdair Fowle, Lidl PR manager, said: "Lidl's Fairtrade own brand Fairglobe has established a reputation for offering great quality products at competitive Fairtrade prices.
"Lidl has carefully selected a range of Fairtrade products that not only give our customers the option to support producers in developing countries but that also includes a range of great tasting quality products."
Products in the Fairglobe range include milk chocolate, dark chocolate, cookies, instant coffee, tea bags, bananas, orange juice and one of the company's Cabernet Sauvignon wines.
And the company also features products that carry other international accreditations. It now sources 100% of the cocoa for its Fin Carré and Bellarom chocolate ranges from farms that have signed up to the UTZ-certified Code of Conduct for good agricultural and business practices.