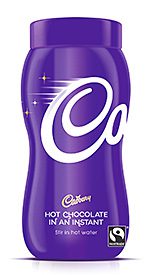 CADBURY became Fairtrade on a number of Cadbury Dairy Milk products in Britain in September 2009.
And since then the Fairtrade mark has been added to a widening range of lines that carry the Mondelez International-owned Cadbury brand.
In the UK, its certified Fairtrade range now includes Cadbury Drinking Chocolate, Cadbury Dairy Milk Buttons, Cadbury Dairy Milk Chocos and Cadbury Dairy Milk Bubbly.
And, since it first took on the mark, Cadbury has moved Dairy Milk in New Zealand, Australia, Canada and South Africa to Fairtrade.
Susan Nash, trade communications manager at Mondelez International, said: "We are the largest purchaser of Fairtrade cocoa and that means we make a huge impact. We buy approximately 16,000 tonnes of Fairtrade certified cocoa a year from Ghana, as well as around 28,000 tonnes of Fairtrade sugar a year from Belize.
"We sell over 230m bars and bags of Fairtrade Cadbury Dairy Milk a year in the UK. Approximately 28% of Fairtrade sales in the UK by wholesale value came from Cadbury.
"Sales of Cadbury Dairy Milk in the UK generate a significant social premium for farmers in these countries – to date, this has been over £6m for cocoa farmers in Ghana and over £4m for sugar farmers in Belize."
Other chocolate brands and products that feature the Fairtrade mark include Kit Kat, Maltesers and Green & Black's.
Divine Chocolate, one of the pioneers of Fairtrade in the 1990s, is 45% owned by African cocoa farmers' co-operative Kuapa Kokoo.