Campaign group says households could save £35 a week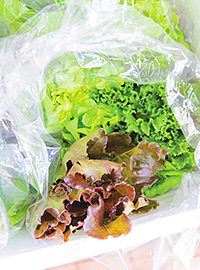 THE food waste issue hit the headlines last month as giant supermarket Tesco said it was to come clean about the amount of food lost to waste in its system and in its customers homes.
At the same time anti-waste campaign Zero Waste Scotland released figures that claimed businesses and consumers north of the border waste more than 2m tonnes of food each year, with a major part of that lost in wholesale and retail.
Tesco said it was the first retailer to publish its own total food waste figures and that it had tracked 25 best-selling products to understand where, and how much, waste occurs from farm to fork.
Its study found that more than two thirds of all bagged salad ends up in the rubbish, two in every five apples are wasted, almost half of bakery items are binned and a quarter of grapes and a fifth of all bananas go to waste.
Most of the grape wastage occurred in the home and consumers accounted for about a quarter of the wasted apples.
Tesco plans to end multi-buy deals on large bags of salad and to replace the offers with mix-and-match promotions on smaller bags, it also plans to give consumers tips on storing apples and plans to work with producers to develop grapes that will last longer in the home.
But in the first six months of this year, Tesco's own stores and distribution centres wasted 28,500 tonnes of food.
It has plans to donate surplus food to charities (see story on page 14).
Zero Waste Scotland and the Love Food Hate Waste campaign took the opportunity to release figures on food waste north of the border ahead of the BBC Good Food Show in Glasgow.
The organisation said households in Scotland could save as much as £35 a month by taking small steps to reduce food waste, through better planning of meals, such as making a shopping list, and getting to know date labels.
But of the 2.1m tonnes of food wasted each year north of the border only 26% was down to domestic waste, it said.
Around 255m tonnes of food is wasted in Scottish wholesale and retail channels.