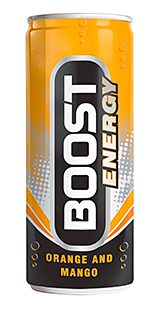 ENERGY drinks brand Boost was another which embraced the 500ml can this year.
Back in the spring it launched its first products to use the pack when it released Boost Original Energy and Boost Orange and Mango flavour in 500ml cans price-marked at 89p.
The brand owner says Boost is the number-two functional energy brand in the impulse channel. At the time of the launch it said it had sold 5m cases of drinks in the Boost range in 2012 but that it viewed it as important to give 500ml can options. Boost sales director Al Gunn said sales of 500ml cans had increased by more than 42% in the preceding year which had been the strongest growth of the various formats in the energy drinks category.
The firm also announced that it planned significant marketing activity, saying that 2013 would see its largest advertising campaign to date, with the activity designed to encourage sales thorough independent retail outlets.
The Boost portfolio includes drinks in three ranges – Boost Energy, Boost Active and Boost Sport.
The stimulation range Boost Energy is available in Original, in 250ml can, 500ml can, 500ml bottle, and 1l bottle. Cola and Citrus flavours are both in 250ml can with the newer Orange & Mango in the 500ml can.
Boost Sport provides three flavours – Orange, Tropical Berry and Mixed Berry in 500ml bottles.
And the glucose drinks in the Boost Active range include Original and Orange in 500ml and 1l bottles.