• Euro moves welcome but credit card charges can still wipe out fuel profit
• Figures errors show predatory fuel pricing threats have to be addressed
CONSTRAINTS on credit card transaction rates can't come quick enough for many fuel retailers and forecourt operators, according to the Petrol Retailers' Association.
The July announcement by the European Commission that it was recommending a cap on interchange fees involved in debit and credit card transactions as part of its Payments Services Directive 2 was music to the ears of the organisation, which says many of its members and other retailers have been hit hard by swingeing card transaction charges.

rtsrtsThe problem has worsened, PRA chairman Brian Madderson told Scottish Grocer, as a result of banks promoting so-called premium credit card deals to their customers which offer consumers cash back on payments made on the cards.
"The banks charge retailers more for transactions on these cards and are actively encouraging their own customers to switch to them," he said.
"There are particular problems for fuel retailers.
"While a typical retailer might see around 45% of purchases made on cards the proportion is much higher in petrol stations, around 70%.
"Of card transactions in fuel dealers around 40% will be debit cards, 30% fuel cards but around 30% are on credit cards, including the premium and cash-back cards.
"Many retailers, when they sign a deal with say a fuel brand agree another deal which includes honouring the major credit cards.
"And anyway the dealer has no way of telling when one of the premium cards is being used, often until they see charges on their statements.
"Charges on those cards can be as high as 2% of the transaction. With say diesel at £1.40 a litre that's 2.8p a litre for the transaction. Some independents are struggling to make 3p a litre on fuel so can see their profit all but wiped out."
The European Commission proposal would limit interchange fees to 0.2p on debit cards and 0.3p on credit cards.
But though many observers expect the plan, or something very like it, to go through it isn't expected to happen soon. It still has to complete consultation and legislative processes and under current recommendations would apply first to international payments within the European Union before being applied to transactions in individual states.
Some expect the political process to be completed next year, which would mean final implementation in individual states might not take place until 2015 or 2016.
The PRA argues that the problem has been acknowledged and that the UK should address aspects of the difficulty ahead of the EU processes, in order to bring relief to hard-pressed businesses. It is expecting to hear Treasury thoughts this month.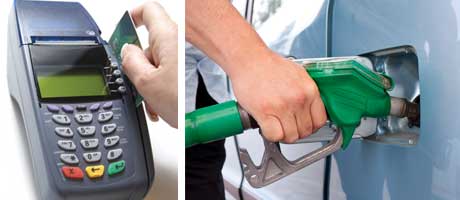 • The summer saw an admission from government that it had got its sums wrong on shares of the fuel market and the PRA is arguing that it should lead to a review of the fuel retailing industry.
The government had suggested that supermarket share of fuel sales was around 39% of the market and was stable at that rate. Revised figures say it's 46.5%
"The statistical data on retail fuel volumes since 2008 has been revised on the Department of Energy & Climate Change (DECC) website, after gross reporting errors were uncovered by officials, the PRA said.
And Madderson was quick to stress the importance of the admission.
"5,000 forecourts have closed since 2000, another 175 closed last year and the independent retailers are continuing to get massacred by the aggressive discounting and below-cost sales tactics by supermarkets.
"This data revision indicates that the average hypermarket sells 12m litres per year and independents 2m litres. Thus every new-to-industry opening by a hyper could suck up the entire fuel volume of six independent retailers in the local area. This is bad for competition, bad for consumer choice, bad for jobs at local family firms and bad for rural communities."