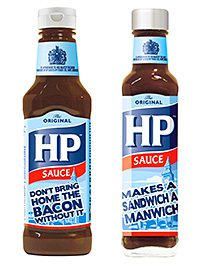 HP Sauce is continuing its efforts to help Britain's blokes get in touch with their masculine side.
The long-established condiment is changing its bottles for a limited run, as part of its 'Sauce of Manliness' campaign.
The special packs will target male consumers with labels carrying straplines telling purchasers that the product "makes a sandwich a manwich".
Other labels will say shoppers shouldn't "bring home the bacon without it".
A supporting Sky Sports television commercial will run during key sports events including Premier League football matches and Formula One motor races.