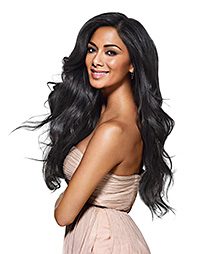 HAIR care line Herbal Essences has recruited singing star Nicole Sherzinger to front a multimedia campaign for the brand.
The Proctor & Gamble product has launched a UK-wide search for the nation's "most naturally beautiful hair".
The competition, which has been labelled #ScherzingHair, forms part of a wider TV, print and PR push.
On-pack promotion will also support the campaign from October. Voting runs through next month and November, and the final crowning of the winner is in December.
The competition will be backed by coverage in Heat magazine, and will be judged by celebrity hairstylist Ben Cooke, Heat's beauty editor, and a representative from high street store chain Superdrug.
"This is a great opportunity for retailers to take advantage of a very high-profile, multimedia campaign, fronted by a celebrity with great appeal to the target Herbal Essences audience," said P&G hair care brand manager, Helen Johnson.