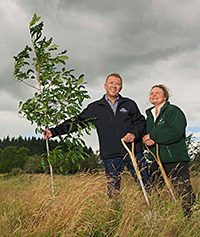 BOTTLED water brand Highland Spring has joined with the Woodland Trust to plant 405 trees on the Ochil Hills in Perthshire, near the company's base in Blackford.
That's one tree for every member of the Highland Spring workforce.
The saplings are a mixture of native species including birch, rowan, oak, hazel, willow and wild cherry.