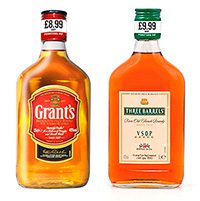 THIS month sees the launch of price-marked 35cl packs of Grant's Family Reserve Scotch whisky and Three Barrels VSOP French grape brandy, exclusively designed for the convenience, specialist and wholesale markets.
First Drinks, which markets the brands in the UK, says research suggests that the majority of shoppers view price-marked packs as promotions, and that in turn helps retailers gain impulse sales from shoppers who are increasingly keen on finding what they think are good deals and competitive prices.
First Drinks reckons price-marked packs and fractional bottle sizes are becoming increasingly important. The firm's own research suggests that over 70% of shoppers who buy 35cl bottles only buy that size.
The new Grant's and Three Barrels packs will retail at £8.99 and £9.99 respectively.