WHY should bakery chains and coffee shops grab all the hot-food-to-go action? Kepak Convenience Foods reckons it has the products and kit needed to allow c-stores to capture spend from consumers looking for snacks that it describes as "hot, quick and tasty" throughout the day.
Kepak's brands Rustlers and Zugo's Deli Café cover ready-to-microwave burgers, sub, wraps, pasties, pasta pots and chilled soup. The lines can, the company argues, meet a broad range of food-to-go demands, providing items for lunch, dinner, and fridge-filler quick meals. And by installing a microwave, shop customers can heat and eat hot snacks right away.
"Kepak provides an immediate solution to these shopper missions with the Rustlers and Zugo's ranges and its new all-in-one microwave and stand which has helped to boost sales for hot, quick and tasty products by up to 280%," channel director Angela Daulby said.
"The 'Heat and Eat' stand is pre-programmed to heat Rustlers and Zugo's hot snacking lines but can be used to heat any hot, quick and tasty products. And it comes with a built-in bin to help keep the surrounding area tidy."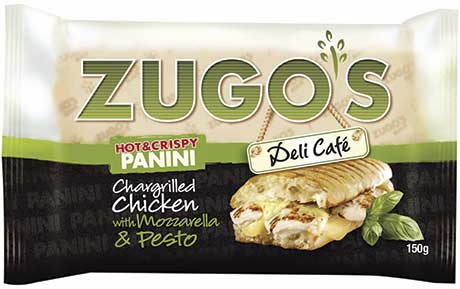 Daulby continued: "Consumers shop at different times of the day for different purposes. HIM CTP researched showed that 79% of purchases in convenience outlets are made by shoppers on an eat-now mission which, combined with our microwave stands, presents a huge opportunity for retailers.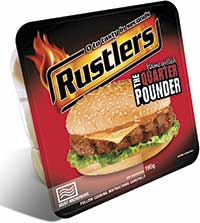 "It's important to offer customers a way of heating their snacks in store, so they can eat them straight away. The Kepak-branded microwave is an inexpensive addition to a store and can boost sales of hot snacking products without the concerns over waste and the additional labour costs associated with food-to-go counters."
Heat and Eat stands with microwaves cost £500 plus VAT, while stands without microwaves cost £360 plus VAT.
[hr]
• Chilled savoury snacks are on the up and up, according to Mattessons, Wall's and Cheestrings owner Kerry Foods. The company claims cheese and meat products are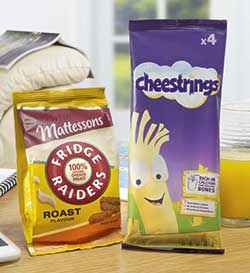 taking over crisps and sweets as the foods to munch on the go, as part of a total chilled foods category currently worth £21.6bn and growing at 3% year-on-year according to Nielsen Scantrack.
Kerry Foods puts the success of Mattessons Fridge Raiders, made from 100% seasoned chicken breast, down to the desire for healthy nibbles for children as well as adults and to increasing demand for snacks for children when they return from school.
"With a limited option for healthier on-the-go snacks, these are proving popular with families because of the convenient format and healthy credentials," consumer marketing controller Richard Tyler said.
"They are perfectly positioned to fulfil a parent's desire for a nutritious tasty snack that they can give children to fill the gap between lunch and dinner."